Tuesday, December 3, 2013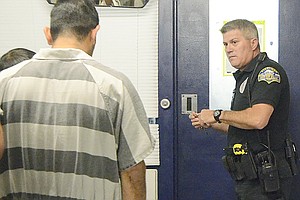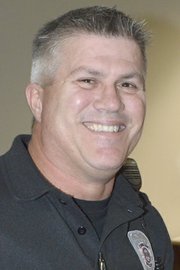 There is always something unique about the day for Sunnyside Corrections Officer Jerry Johnston.
He got his start in the law enforcement field as an employee of the Washington State Department of Corrections in 2004. Johnston was responsible for inmates on work release.
When he found there were no other opportunities for advancement, Johnston said he went to the law enforcement academy in Walla Walla to become a corrections officer at Ahtanum Ridge Prison. He worked there until its doors were shuttered.
"I was transferred to Coyote Ridge," said Johnston, stating he commuted a total of four hours per day as he continued to work for the state.
However, it wasn't an easy commute, so he applied for a job with Yakima County. Johnston worked for the Yakima County Department of Corrections until nearly three years ago when the county began cutting its budget, resulting in lay-offs.
He wasn't discouraged. Johnston said he applied for a corrections officer position with the city of Sunnyside and has been working at the Sunnyside jail since May 2011.
"It's so much different than other places," he said, stating corrections officers in Sunnyside have to be more multi-faceted.
"You do booking, transports, court, pod maintenance, dispatch and help patrols when necessary," said Johnston, stating the various responsibilities keep the corrections officers busy. "It also makes us more marketable," he quipped.
Johnston, however, enjoys what he does. He said keeping busy makes a shift pass quickly.
"The job is interesting and frustrating all at once," he said, noting the corrections officers work rotating shifts at the Sunnyside jail.
They also deal with a variety of offenders, ranging from someone who has never been in jail before to career criminals.
"Serving as a corrections officer is an unrecognized part of law enforcement," said Johnston. He said many citizens don't understand the demands of the work.
But, when dealing with the different offenders there are any number of emotions exhibited by inmates, ranging from despair to psychotic rages.
Johnston said dealing with an inmate who is a drug user can be particularly challenging. The inmate may enter the jail on a high. They can be pleasant or violent, depending on the circumstances and the substance they used. However, the inmate drops and experiences withdrawals.
"You need to have empathy when they come off the high…you become a caregiver," said Johnston.
He said there are also inmates that believe the Sunnyside jail "…should be the Hilton." Those inmates, and sometimes family members, expect the corrections officers to cater to their every need.
"They don't understand jail is jail…there is no special treatment," said Johnston.
He said working in law enforcement, especially as a corrections officer, takes a unique personality. "It's not a job just anyone can do."
Johnston said there are rewards like seeing some people change their lives to become productive citizens.
He said he also enjoys the camaraderie among the individuals who work in law enforcement. He said those who work for the Sunnyside Police Department are much like a family.
"I know I can rely on everyone in the department," said Johnston, who earlier this year suffered from some health issues. He said the officers, dispatchers and all of his co-workers supported him through the experience.
"We even fight like siblings," Johnston joked.
"I have worked in retail and in the warehouses…I wouldn't trade this job for any other," he said.