Thursday, August 29, 2013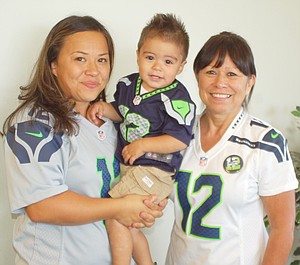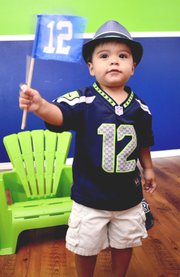 A cute toddler, an extreme fan and social media all combined to win the Soto family of Sunnyside two season tickets for Seattle Seahawk home games this year.
Kacey and J.C. Soto entered the Ultimate 12th Man photo contest sponsored by Yakima-based KATS radio station and this week learned they submitted the winning entry.
That entry was a photo J.C. snapped of the couple's 17-month-old son, Jaycek, waving a 12th man flag.
What helped make the entry even more compelling is that the background in the photo bearing Seahawk colors is actually a wall in Rick and Leti Amador's Sunnyside home. The Amadors, Kacey's parents, are long-time Seahawk fans.
"I wanted to paint the whole room green and blue but my husband wouldn't let me," Leti laughed.
The online photo contest awarded the season tickets to the entry with the most votes. The Soto submission rallied to prevail with just over 25 percent of the votes. "It was close," says Kacey, noting their photo won by less than 3 percent over the other 48 contest entries.
Kacey, a teacher at Sun Valley Elementary School, used social media to help win the contest. She reached out to her school colleagues via Facebook and texts throughout the day. She found out theirs was the winning entry on Monday morning of this week during the kick-off event for Sunnyside school staff.
While Facebook may have helped push the Sotos over the top to earn a pair of season tickets, she says the tone on the social media outlet has turned nasty.
Indeed, posts on KATS' page this week have accused the Sotos of cheating and even "hacking" the on-line vote.
Kacey says she wanted to fire back with terse words of her own, but was talked out of it by her husband.
Instead, she posted a Facebook entry with a picture of the season tickets and the words "Go Hawks!"
Young Jaycek already knows how to say "Go Hawks!" but he won't be going to the games. "I think he would get scared if he heard me at the games," Kacey laughed.
However, the Sotos will find a way to work something out with the Amadors, especially since it was their Seahawk-tinted wall that provided the backdrop for the winning photo.
"Were going to be sharing some tickets with them," Kacey smiled.