Wednesday, August 21, 2013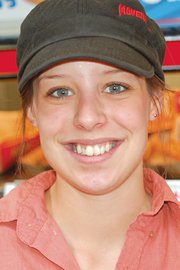 Age: 22.
Spouse: (boyfriend) Boston Alvord.
Children: One child on the way, a girl - Surrey Alvord (10-6-13).
Occupation and place of work: Maverik as Adventure cook.
My favorite part of the Yakima Valley is… My grandparents' house. So beautiful.
When I was a child, I wanted to grow up to be... Someone who helps others.
First job I ever had was… Making pizzas at Papa Murphey's pizza.
If a movie was made of my life, the actor/actress I'd want to play me is... Kate Hudson. She's funny.
The best gift I ever received was... The gift of my child.on the way.
The best piece of advice I ever received was... Always try and do your best and something will come your way.
My favorite dessert is... Ice Cream.
One of my most memorable moments, besides getting married or having children was... Just all the great times and get togethers with the family.
If I could witness any event past, present, or future, I would want to see... The 60s and the 70s.
I'd love to learn how to... Act.
The furthest I have been away from home is when I went to... Tennessee with my best friend Britteny in the 9th grade.
My favorite leisure activity or hobby is... Relaxing with family and friends.
If I didn't have to worry about money, I'd spend my time... Shopping.
The one word that best describes me is... Fun-loving.
If I could change one thing about myself it would be... Nothing.