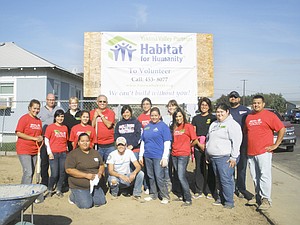 YAKIMA - The Ameri-Corps members in the Community HealthCorps at Yakima Valley Farm Workers Clinic recently earned the Daily Point of Light Award for their service to the community. The Daily Point of Light Award is given to individuals who contribute to their communities through volunteerism, making an impact and working to address their community's needs.
The Yakima Valley Community HealthCorps team has been serving the health center and community for almost a decade through a variety of programs and efforts that include patient education, feeding the homeless and organizing events.
Their service includes home visits to help asthma patients understand and manage their disease and assisting patients with applications for prescription assistance programs. For the past seven years the team has served annual Thanksgiving meals at the Yakima Union Gospel Mission, helping to provide more volunteers to serve more than 200 homeless residents.
They also participate in Make a Difference Day by painting homes for low-income and disabled families and help build homes in Yakima County for Habitat for Humanity.
The Community Health-Corps team also organized the first Toppenish Martin Luther King Jr. Peace March and Presentation, which drew hundreds of participants.
"We are excited the Yakima Valley Farm Workers Clinic Community HealthCorps team was chosen to receive the Daily Point of Light Award during National Health Center Week (Aug 11-17)," said Carlos Olivares, CEO of Yakima Valley Farm Workers Clinic. "It is wonderful to witness how their hard work brings the public together. They are a shining example of how we can all contribute to improving the communities we live in."