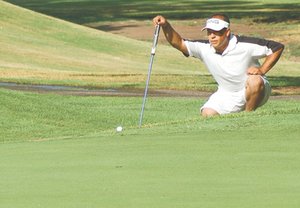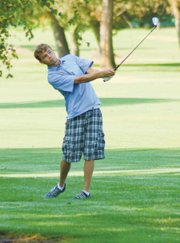 If you're using your fingers to count the number of Yakima Amateur Invitational titles Dusty Frontis has won, plan on using two hands. The Yakima golfer claimed his sixth championship this past weekend.
The Yakima Am traditionally brings together the Valley's finest linksters for a three-day, three-venue competition. Frontis proved once again he's still "the man" among the Valley's elite.
His 2013 title, however, didn't come without several stiff challenges. The sternest test Frontis faced came in Sunday's closing round at Sun Tides Golf Course, when Yakima's George Pechtel briefly grabbed the lead from the eventual champion. Frontis rallied after a rough start, though, to eke out a four-shot victory for his sixth Yakima Am championship.
Among the pursuers hot on Frontis' trail this year were two Lower Yakima Valley golfers – Sunnyside's Trini Madrigal and Mabton's Nathan Espinoza.
Madrigal, like Espinoza a regular at Sunnyside's Black Rock Creek Golf Course, opened the tournament last Friday with a 1-under-par 71 at Toppenish's Mt. Adams Country Club. The sub-par round put Madrigal in a two-way tie for fourth, only three shots back of Frontis, who opened defense of his title with a blazing, 4-under 68.
Madrigal jump-started his opening round by notching back-to-back birdies right out of the gate. "I was pretty pumped," he admitted.
That enthusiasm waned a bit, as he – as well as the rest of the field – had to adjust their game plans when they reached Mt. Adams' greens. Known for their quickness, the greens last Friday were anything but.
"Normally they're very fast," said Madrigal. "But Friday the greens were super slow. I hadn't seen them that slow and spongy before."
He said the round soon turned into a situation of "…holding it together for the rest of the day.
"Saving your score is what it came down to," he said.
Posting par after par after par, Madrigal did exactly that. He hit the clubhouse turn with a 2-under 34, then grinded out a nifty 1-over-par 37 on Mt. Adams' back side.
The 20-year-old Espinoza, fairly new to the tournament aspect of golf and currently rated a 4-handicapper, was just as impressive in making his Yakima Am debut on Friday. The Mabton golfer said he got in a practice round at Mt. Adams the day before, "…so I knew the greens were playing slow."
Executing a slightly more aggressive putting style, Espinoza got around the front side with a 1-over 37. He moved thicker into the hunt by shooting a 1-under 35 on the back nine, his lone tweeter coming on Mt. Adams' toughest rated hole, the par-5, 13th.
Espinoza's opening, even-par 72 left him in a two-way tie for sixth heading into day two action.
Figuring to move up the leader board with home course advantage on Saturday, things didn't go exactly as planned for either Madrigal or Espinoza.
Madrigal's undoing came on Black Rock Creek's No. 1 rated hole, the par-5, sixth. He took the safe route off the blocks, pushing his drive out to the right away from the OB markers to the left. In attempting to lay up to the corner that is flanked by a small pond on the right side, Madrigal's ball hit the lone tree in the fairway, kicking it into the water.
"I tried the same shot again, with the same result…two balls in the water."
He ended up walking off the green with a bogey-four, which eventually led to a front side 43.
Madrigal righted the ship on the back nine and posted a 1-over 37, but the damage had been done. Absorbing an 80 on his home course, and with the tourney leader – Frontis – firing a 1-under-par 71, Madrigal was basically out of the race.
Espinoza got off to a decent start Saturday, making the turn at 2-over-par 38. He said he had to scramble a bit, "…but I was playing alright."
Things started to sour for the Mabton golfer when he got to the back side, then went completely south when he four-jacked the 12th green with his flat stick for a double-bogey.
"Kind of had a hiccup with my putter on No. 12," Espinoza said.
Unable to get back into a groove, Espinoza eventually settled for a back nine 43, which left him at 9-over-par 81 on the day.
Finishing up the tourney at the par-70 Sun Tides course midway between Selah and Naches on Sunday, Espinoza and Madrigal gave good accountings of themselves. Es-
pinoza carded a 1-over 71, with Madrigal a single stroke back at 72.
The eventual winner, Fron-tis, closed with a 2-under 68 for a three-day total of 207, seven strokes under par.
Madrigal, who carries a handicap of 1, had a three-day total of 9-over-par 223. Espinoza tallied a score of 224.