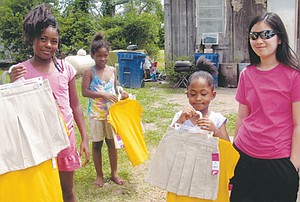 After viewing a movie released a few years after she was born, 15-year-old Cheree LaPierre of Sunnyside found herself 'paying it forward' this summer.
"Ever since I watched the movie, "Paying It Forward," I have thought about how I could help others," said LaPierre.
Last month the Sunnyside High School junior, who plans to use her experience as a part of her senior project, had an opportunity to visit some of the poorest regions of Mississippi to work with children at the Jonestown Children's Center.
But the trip to Mississippi was not exactly how she had expected to spend her summer. Last January LaPierre was making plans to travel to Ciudad del Carmen, Mexico to work at an orphanage. She, along with her mother Peggy LaPierre and her sister Danielle LaPierre, all of Sunnyside, held fundraisers to raise money to give to the orphanage for clothes and school supplies.
"I was thrilled as it is not every day that a person gets to help like this," the young philanthropist said.
LaPierre said she had been asked to travel to Mexico by the woman who had helped place her and her sister with their adopted mother. Pat Lee is the director of Children of the World and works to find homes around the world for orphans.
"Pat Lee asked me to travel to Mexico, but she got sick and so we had to change our plans," LaPierre explained.
The first fundraiser she had organized with the help of family and friends netted $1,200.
With the trip to Mexico called off, Lee suggested LaPierre travel to help put in a playground at an orphanage near Chennai, India.
"But I couldn't travel to India," LaPierre said. "So I decided to send money with Lee to India. I received pictures of the children playing on the equipment and I was thrilled," she said.
LaPierre said she was still committed to helping the Mexican orphanage so she and her mentor, Cathy Mears, and her family organized more fundraisers.
"People started donating to help and I assured them that every penny would go directly to the children," she explained.
LaPierre still wanted to work personally with children, so after some family discussions it was decided the family would travel to a place her mother was very familiar with. Twenty-seven years ago, LaPierre's mother, along with Sister Mary Rita Rohde of Sunnyside, spent several weeks working at the Children's Center in Jonestown, Miss., an orphanage established and operated by the Holy Names Sisters.
So the LaPierre family made contact with the Holy Names Sisters and made plans to travel to Jonestown.
"We worked with pre-school children in the morning and with first through fifth grade children in the afternoons," she explained.
Because the 15-year-old dreams of being a teacher, just like her mother one day, she enjoyed teaching geometry, health and fractions to the older children in Jonestown.
"I was able to use so many teaching strategies and since I have always wanted to be a teacher, this was a tremendous opportunity," she said.
While in Jonestown, the LaPierre sisters were able to shop for the children at the orphanage, purchasing not only school supplies, but also school uniforms for several of the poorest families' children to wear to school.
The LaPierres delivered the clothing to the children's homes and were shocked to see the poor housing conditions in which the children live.
"I couldn't believe that people could live in such poor conditions right here in the U.S.," she said.
LaPierre learned that Mississippi ranks 48th in the nation for extreme poverty conditions, poor education, poor economic well-being and poor health.
It felt great to help in this way," she said. "We also gave the children Gideon Bibles," she added.
But LaPierre's summer of paying it forward didn't stop there. Her family decided to travel to Tutwiler, Miss., where they visited another Holy Names Sisters orphanage. They also visited Mobile, Ala., where they finally were able to visit with Lee in person.
"I was finally able to give her a check for the Mexican orphanage and learned it would be used for clothing, shoes and food for the children," LaPierre said.
Now, finally at home and getting ready to begin her own school year, LaPierre is working on yet another project in pay it forward efforts. She is currently involved in raising money to help build a church in a leper colony in India. "They need all types of other physical things, but they want a church," LaPierre said.
"I know I can help with this (project) with the support of others. It will happen with God's help," she smiled.
LaPierre knows that working with missions and orphanages may be life-long ventures.
"And I have learned that even though plans change, more doors open to allow even more people to be helped. Helping others just ignited the fire within me to continue to help more people," she said.
‑ Julia Hart can be contacted at 509-837-4500, or email JHart@DailySunNews.com