Friday, September 28, 2012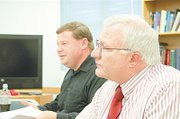 The city council's subcommittee for public safety met at the Law and Justice Center in Sunnyside Thursday afternoon and discussed several topics, including construction of the newly approved fire station, the problem of people driving while talking on cell phones, the council's decision to decriminalize disorderly conduct in the city code and the budget of the police department.
The discussion started with a report by Fire Chief Aaron Markham on the plans for the new fire station. Councilman Nick Paulakis asked if the city had plans to donate any usable materials from the old station.
Markham explained that donations from the city require a complicated process, including council approval of the surplus of equipment, and that the city is more likely to give the job of deciding what to do with any old materials to the contractor picked to work on the building.
Paulakis also asked Deputy Police Chief Phil Schenck about the problem of people talking on cell phones while driving. Schenck noted that police pull drivers over when they see it, as using a cell phone while driving is a primary offense. He also noted that using the speaker function on a cell phone is not considered "hands-free" by the law.
Schenck also told the committee that the police needed to be able to criminalize one particular type of disorderly conduct. The city council changed disorderly conduct from a criminal offense to a civil infraction this past Monday.
Schenck said one of the behaviors listed in Sunnyside's disorderly conduct code should be criminalized again, but needs to be considered carefully before the council takes action.
Schenck also presented an overview of the police department's budget to the committee, explaining how in the past the city council has approved additional staff, pay increases or clothing allotments but never adjusted the budget to account for the extra needed funding.
"I know what numbers I needed," he said, referring to budget adjustments that never happened. Instead of receiving needed funding, he would be told "you have what you have." According to Schenck, the lack of adjustments made it impossible for the police department to stay under budget.
He wanted to emphasize that the council needs to adjust the budget for the police if they adjust any issues that would affect the budget instead of approving changes without regard to financial impact.