Friday, September 14, 2012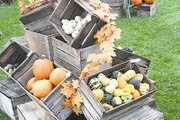 GRANDVIEW - Fall is just around the corner and it's time again for Bill's Berry Farm near Grandview to hold its annual Apple & Pumpkin Festival.
The festival gets underway next Saturday, Sept. 22, from 10 a.m. to 5 p.m. It will continue each Friday and Saturday through the month of October from 10 a.m. to 5 p.m.
All ages will enjoy picking crisp apples right off the tree, or hunting down the perfect pumpkin in the farm's pumpkin patch. The farm also has fields with gourds and squash.
Another highlight is the opportunity for visitors to squeeze their own apple cider right on the farm.
There is also Berry Park BBQ, where the farm will offer hot dog roasting.
Once again, Bill's Berry Farm will also offer a corn maze. The 2012 maze is in the shape of a pumpkin and is actually six mazes in one.
Answer the apple theme questions to find your way through the small kiddy maze, or take on the larger challenge of the Barnyard Mystery maze and find a clue in each of the larger mazes to solve the mystery as to which of the Barnyard Buddies kidnapped Farmer Bill!
There will also be competition during the Apple & Pumpkin Festival, such as apple slingshots where the idea is to shoot an apple through the center of a donut-shaped target to win free donuts. More than 80 people won free donuts during last year's festival at Bill's Berry Farm.
It also wouldn't be fall at Bill's Berry Farm without the kid's favorite Barnyard Train rides, a visit to the Barnyard Buddies petting zoo or a ride on the ponies.
Each Saturday throughout the festival season will feature its own special event in the Berry Park, be it live music, fun fall decorating and cooking demonstrations or a special farm guest.
As always at Bill's Berry Farm, festival admission is free. There is admission required for the corn maze, though, which is $6 for ages five and up. Children four and younger are admitted for free.
Bill's Berry Farm is located at 3674 N. County Line Rd. just north of Grandview. The farm can also be reached by calling 882-3200.