Thursday, September 6, 2012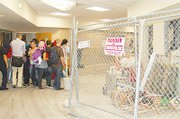 New Sunnyside High School Principal Ryan Maxwell says construction at the school will be "substantially done" in the next two weeks.
According to Maxwell, the only problem on the first day of school was the band room, which could not be occupied due to electrical issues. Otherwise, every classroom was ready.
"It's mostly electrical problems," he said. "And just the final touches in some classrooms."
The new commons area is completed and will serve as a lunchroom as well as a gathering space. In addition, the amount of room the school has added translates into a giant benefit for teachers.
"Every teacher has a classroom," said leadership teacher Josh Eidson. Maxwell explained that the school has had some teachers moving from classroom to classroom for the last five years. As of this year, every teacher has a place to call their own.
In addition to electrical problems, the landscaping around the school is also incomplete, said Maxwell.
The electrical issues have led to a problem for the school's sports, as the scoreboard for the gymnasium isn't working.
"We can hold gym classes just fine," he said. "But we need the scoreboard for volleyball."
As a result, the games scheduled for today, Sept. 6, will be played at Sierra Vista Middle School instead of the high school.
"It will be fixed in the next two days," Maxwell said.
To celebrate the completion of the construction, the school will hold an open house on Tuesday, Sept. 18, for everyone in the community. The event will include food catered by Conquistador and tours of the school.
"We want to thank the entire community for passing the bond," said Maxwell. The event will run from 6 to 8 p.m. and will be unstructured so people can drop in whenever they want.
"They can stay for 10 minutes or two hours," said Maxwell.
- Laura Gjovaag can be contacted at 509-837-4500, or email
LGjovaag@DailySunNews.com