Thursday, September 6, 2012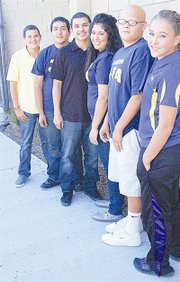 MABTON - For the past four years, the Mabton High School FFA program has been growing in numbers and participation.
When the club re-started four years ago with agricultural instructor Randi Krieg, students may not have expected to reach the national ranks just a few years later.
Earlier this year, Mabton FFA students submitted entries for the National FFA Chapter.
The competition scores are based on the overall completeness and quality of the local club, as well as the integration of the agriculture program and the individual project portion of the school's program.
Mabton students earned a three-star rating, which is the highest score students can receive at the national level.
Students utilized their writing skills to tell national judges of their club's completeness.
Judges were on the lookout for an FFA chapter that displayed student, chapter and community member involvement.
Mabton FFA club members chose a number of activities to present to judges, showing their involvement in all three categories.
Student
Students in Mabton FFA hosted an "Exploring Careers in Agriculture" event last year for their fellow classmates. In addition, students were given the opportunity to further explore an occupation they may be interested in.
Chapter
To increase member participation, Mabton FFA leaders developed and nutured a greenhouse on campus. Not only did that project include members, it also generated funds for the group and provided floral arrangements for students during special holidays or occasions. Chapter president Vanessa Sanchez says the floral shop helped develop leadership skills for herself and fellow club members.
"It was a great way to get the whole chapter involved," she said.
To further integrate members of the club, FFA leaders also implemented an FFA chapter reporter. The club also helped out with the newly finished Mabton Community Park.
Community
Mabton FFA students have also hosted several community events throughout this past year, including a winter blast event for area children.
The club also performed the "Stuff the Bus" food drive, where the goal was to fill an entire school bus full of canned foods to give to the local food bank.
To further their involvement in the community of Mabton, students also helped with the daily chores at this summer's Mabton Community Days events.
Not just a club
For Mabton FFA member Ty Leyendekker, the group has been more than fun activities for him. He says before joining FFA he spoke with a stutter.
"It's not just a program for me, it's helped me with public speaking and has improved my stutter," he said.
Students say that FFA has also taught them accountability and teamwork.
Since school is in full swing, Mabton FFA students have been preparing for the year's projects and will be attending the national convention this coming October, in Indianapolis, Ill.