Wednesday, October 10, 2012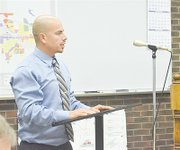 GRANDVIEW - When the city of Grandview began studying its water and sewer rates back in 2008 it was believed the rates would need to be increased by 6 percent each year to make up for the losses associated with the Wild River Foods fire that destroyed an entire processing facility.
Ted Pooler of Huibregtse, Louman Associates has been tasked with annually updating the analysis of the city's water and sewer rates and last night he told the Grandview City Council the rate increases being proposed for 2013 are lower than anticipated in years past.
Because water fund revenues are up this year (2012), Pooler said the water rate increase proposed for 2013 is 2 percent instead of 6 percent.
"Revenues were higher than expected," he told the council members.
The increase in revenues, Pooler said, can be credited to the city's public works director, Cus Arteaga, and staff responsible for the city's water system. He said they controlled expenditures.
Credit can also be given to the citizens of Grandview, said Pooler. He said there has been an increase in water usage by both residents and industries in the city.
There was an adjustment made for the city's water fund expenditures. Pooler said an expense of $300,000 was added to the water fund budget for the replacement of water pipelines within the Euclid Road street improvement project. That funding combined with Transportation Benefit District allocations provide local matching funds for grants.
Pooler said he recommends a water rate increase that is 4 percent less than expected because both revenues are up and expenditures are down.
The sewer rate increase has been since 2008 recommended at 6 percent annually, as well. That recommendation stands.
Pooler said the wastewater treatment plant is due to undergo improvements and wastewater discharges are down.
Future improvements to the wastewater treatment facility were not included in Pooler's analysis of the sewer rates and he said his projections show an increase of 6 percent will be necessary for 2013 and 2014.
He said the current analysis also projects rate increases of 4 percent in 2015 and 2016, which is lower than earlier projections of 6 percent.
"Sewer rates are on track for the next two years," said Pooler, noting some debts for the wastewater treatment facility will be paid in the next few years, but other debts may be added for improvements.
"The sewer fund isn't looking to have as good of a revenue projection as the water fund, but it's looking better than it did last year (2011)," said Pooler, adding the city of Grandview's water and sewer rates remain below the average rates for other Lower Yakima Valley communities.
The Grandview City Council will take a vote on the proposed rate increases at a future meeting.