Wednesday, November 21, 2012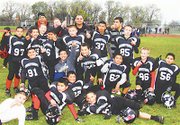 Longtime Sunnyside Grid Kid program organizer Max Saldana nearly beams as he tells those with whom he comes in contact about the local youth program.
This season he was excited to share that two of the local teams were very successful, ending with a championship for the 11-year-old 'B' team.
"These kids work so hard through the season and it is great news that we won a championship," said Saldana.
The team is coached by dedicated volunteers, including Phillip Blankenship and Lupe Maldonado, who have dedicated more than a decade of combined mentorship and guidance to Sunnyside youngsters participating in the Grid Kid program.
Saldana said it is the dedication of volunteers like the two coaches that make the program successful. The program, he said, continues to grow in popularity and most age groups have two Sunnyside teams because of the number of youngsters joining each year.
The Yakima Valley Grid Kid Association championship game against the Yakima Redskins ended the 2012 football season for the Sunnyside Grid Kids. The championship team secured a 10-0 season record, and Blankenship said he hopes to have similar success next year as the youngsters advance to become one of the two top squads within the program.
Saldana said another successful season was had by the Sunnyside 8 and 9-year-old squad, led by coaches Scott Linehan, Brent Copeland, Tony Herrera and Nick Diaz.
The team ended the season with a record of 8-1 after advancing to the second round of the playoff finals. That loss kept the team from advancing to the championship round.
Saldana said it was a great season for the Sunnyside Grid Kid participants and, "I am proud of everyone's hard work."