Wednesday, November 14, 2012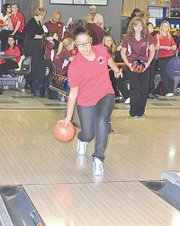 A six-pin margin of victory for Sunnyside in the opening contest of a four-game match gave the Lady Grizzly bowling team the early lead against visiting Moses Lake yesterday afternoon.
The Chiefs rallied in games two through four, however, to pull out a 3-1 win.
Tuesday's loss to the Moses Lake High School girls bowling team dropped Sunnyside to 0-2 on the young season.
In winning the opener by a 743-737 score at Sunnyside's Valley Lanes, the Lady Grizzlies got strong efforts from the trio of Johanna Chumley, Brianna Esqueda and Shantana Schneider. Chumley tossed a game-high 189, followed by Esqueda's 169. Schneider added a 144 for the winners.
Rounding out the team scoring for Sunnyside in the first contest were Adriana Lopez's 121 and Lupe Varela's 120.
The best Moses Lake could muster in the first game was a team-high 160, rolled by Allie Clemons.
The Chiefs fought back in game two, behind the individual performances of Janae Serrano (181) and Bre Garry (177), to tie the match with a 774-665 victory.
Varela had the top game for Sunnyside in the losing cause, rolling a 153. The Lady Grizzlies' other individual scores in game two were a 144 by Schneider, a 134 by Chumley, a 119 by Adriana Lopez and a 115 by Esqueda.
Moses Lake forged a 2-1 lead in Tuesday's match by winning the first of the two Baker games, 153-106. The Chiefs secured the 3-1 team victory with a 158-116 decision in the second Baker contest.
Baker bowling calls for each member of the five-girl squad to alternate taking turns throughout each of the 10 frames.
The Sunnyside prep team is scheduled to travel to Yakima this coming Thursday to take on the Davis Pirates at Minda Lanes.