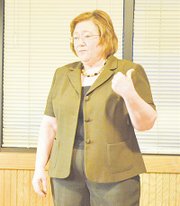 Debbie Mendoza of Sunnyside understands two sides of the municipal court system.
That's because she is the court administrator for Sunnyside's municipal court and serves as a judge for Zillah's municipal court.
This morning (Friday) Mendoza told the Sunnyside Republican Club at its final meeting of the season how she became one of just two non-attorney judges in the state of Washington.
She said she found herself in a position of needing to support her family in 1980 and went back to college to obtain a degree so that she could work as a legal secretary.
After securing a job at the Yakima County District Court in Sunnyside, Mendoza learned there was a test she could take to become a judge. She took advantage of the opportunity, but failed the test by just half a point.
In 1986, Sunnyside decided to open its own municipal court. Mendoza said the city attorneys and district court judges had some disagreements that led to the decision made by the city council.
That led to Mendoza's role as court administrator. After gaining another six years of experience in the courts, Mendoza decided to re-take the test to become a judge.
She passed the test and a couple years later the city of Zillah called her because the judge that had been presiding over municipal court cases there had died.
Mendoza snatched up the opportunity, knowing it would require a little bit of her time since the municipal court convenes just two times each month.
"I often find it difficult to see myself as a judge since it's not a full-time position," she told those attending the Republican Club meeting.
Mendoza said serving in two capacities within the court system provides her with a broad perspective.
She views her role as unique, especially since the state in 2003 stopped administering the exam she took to become a judge. Any new judges have to have law degrees.
As a municipal court judge, Mendoza said she presides over gross misdemeanor cases, such as DUIs, domestic violence, marijuana possession and traffic infractions.
She said the case load has increased in both courts over the years. In Sunnyside there were about 1,700 case filings in 1986. In 2011, there were more than 4,700 case filings.
When Mendoza began her career as a judge for Zillah there were approximately 377 case filings. That number has increased to just more than 400 cases.
Assault cases, she said, are not filed by the victim but the by the city. Mendoza said the victim in an assault case has no control of the case, and she believes that is a good thing.
In a domestic violence case, for instance, she said the victim can be unduly influenced or the victim may not be thinking clearly.
So, it is up to the prosecutor to decide how to pursue the case. There also isn't any bail set for domestic violence defendants.
DUI's are the only cases that must be heard or probable cause must be established within 48 hours.
"So, a judge can often get calls at night," said Mendoza, stating judges must decide whether or not the defendant in a DUI case will be arraigned.
"We do see their record...now we have it available to us by computer," Mendoza noted.
She said there are a lot of variables in the court business, but she believes in seeing defendants as people, not case numbers.
There are guidelines that must be followed. A first-time DUI offender is subject to a minimum of 24-hours in jail and a $926 fine plus court costs, two years probation and must attend an alcohol program, according to Mendoza.
She said third time offenders face 90 days mandatory jail time, 120 days of electronic home monitoring and a fine of more than $2,000.
In addition to being just one of two non-attorney judges in Washington state, Mendoza said she is the only judge who also serves as a court administrator.
"Over the years dealing with other judges and attorneys has changed for me," she said, stating the "glass ceiling" was still in place when she first began her career, but there are more female judges now than there once was.
In addition to hearing from Mendoza, the Republicans learned PFC Kelly Bridges, who graduated from Sunnyside High School in 2010, is in need of community support so that she can be admitted to West Point Military Academy in New York.
The private made an appearance at the meeting, asking those attending to endorse her.
The members of the Republican Club unanimously voted to submit a letter to Congressman Doc Hastings from whom Bridges requires a recommendation to attend the military academy.