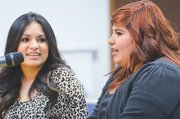 The late John Hughes' name will forever be attached to the Sunnyside School District for his efforts with drug and alcohol intervention.
Hughes died at the beginning of this year, but his legacy will live on with the school district's school-based health center.
Last night the Sunnyside School Board had the opportunity to review a list of names for the health center and unanimously agreed to name it after Hughes.
Other names considered were Dr. J.R. "Jack" Hale, Dr. Gary Martin, Dr. P.J. Swofford and Frank Filicetti.
However, the school board believed Hughes was deserving of the honor because of his ties to the district and his belief in promoting the overall health of the students.
He was a pioneer in developing school-based student assistance and treatment for students with drug and alcohol issues. In 2008, he helped develop the Choices program for students who are at-risk and/or need gang intervention and prevention.
Hughes was a member of Sunnyside's Promise, and he helped the school district secure the Division of Alcohol and Substance Abuse license to help students before they are in need of intensive substance abuse treatment.
Sunnyside School Board Director Rocky Simmons last night said of the suggested names, "These are all pillars of the community. Hughes' passion was helping students...he was interested in addressing the needs of the whole child."
Simmons is the board member who moved the district's health center be named in honor of Hughes.
School Board Director Sandra Linde worked with Hughes via Sunnyside's Promise and the school district.
She said honoring Hughes by naming the health center after him is appropriate. She said it's her belief that the district is able to establish the center because of Hughes' support.
Director Lorenzo Garza Jr. said, "Hughes was a visionary."