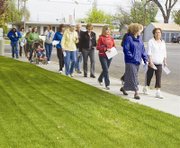 In observance of the National Day of Prayer, more than a dozen Sunnyside area residents walked through the city praying for seven spheres of influence yesterday.
The group carried out the ACTS program of prayer, which stands for Adoration, Confession, Thanksgiving and Supplication.
The first prayer spoken at yesterday's walk began at Sunnyside City Hall where prayer walkers asked God for a unified city government.
Event organizer Ann Bardell says though the group gathered on National Day of Prayer, she believes more prayer events should happen. Those participating represented several different churches gathered in unity, and Bardell says she'd like to see more of that.
"Prayer needs to happen all the time," she said.
The spheres of influence the individuals prayed for included local government, the local hospital and health care facilities, families, education, media, businesses and churches and religion.
Bardell says Transformation Sunnyside community committee members have also planned an event of prayer on the Global Day of Prayer. This event is slated for Sunday, May 27, from 3:30 to 5 p.m.
The group plans to meet at the United Methodist Church, located at 906 E. Edison Avenue, and walk to the Jerry Taylor Memorial Veterans Plaza to honor Yakima Valley veterans.