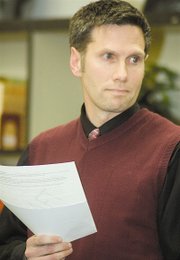 GRANDVIEW - By this fall, Grandview Middle School students could have a dress code policy in place that requires students to wear school uniforms.
Beginning this past November, Grandview Middle School Principal Paul Voorhees began a discussion with parents about the possibility of school uniforms. The initial reaction was a positive one, according to Voorhees.
"We feel it's important to improve our school's culture so (students) can focus on achieving at their highest level," he said.
He says school administrators are looking at starting the policy at the beginning of the next school year, 2012-13.
After the initial discussion, Voorhees took the conversation to middle school teachers. He says most were in favor, but all are willing to enforce it.
The policy made it a step further with a parent meeting held last Thursday at Grandview Middle School. Voorhees says there were nearly 120 in attendance. He says that of those in attendance around 10 people were opposed to the idea of enforcing school uniforms at the school.
Last night (Monday), Voorhees presented a preliminary draft of the uniform policy to the school board.
He said, "based on the fact that we have been designated as a persistently low achieving school, the mandate from the state is to get our (test) scores up."
Grandview Middle School students deal with daily distractions, according to Voorhees, that revolve around clothing.
"Our kids get bullied," he said at Monday night's meeting. "... and part of that starts with what they are wearing."
He says implementing a uniform policy will level the playing field for students, create unity and a sense of equity at the school.
As a previous administrator at a school district with a uniform policy in place, Voorhees says he could not tell the difference between students' parents' income levels.
"It really did level the playing field, and students could focus on school," he added.
He says the idea is to balance the policy by giving students some choice in what they wear. According to the draft of the policy, students will be required to wear black pants, skirts, skorts or Capri pants. Students will be able to choose from white, gray or maroon polo shirts. Shoes, also, must exclude red or blue colors.
Some parents attending last night's school board meeting were concerned with costs associated with uniforms, and others say the policy is addressing the wrong issue. A parent added that involving parents of fifth grade students would be helpful, since those students will be required to follow the policy beginning the following school year.
During school conferences Voorhees says he plans to have surveys distributed for parents and students to hear additional feedback about the policy. In addition, Superintendent Kevin Chase suggested getting a survey to elementary school parents as well.
Voorhees says, also, if students are dressing like professionals or much like they would when going to a job interview, they are more likely to care about success in the classroom at a deeper level.
An additional meeting is scheduled for parents on Thursday, April 19, at 6:30 p.m. at the middle school.