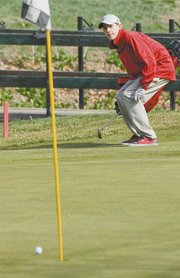 An even-par 72 by Jon Schemstad and a 77 from teammate Addison King propelled the Mount Baker Mountaineers to a first-place finish at yesterday's 22-school Grandview Golf Invitational, staged at Black Rock Creek Golf Course.
The Mountaineers, who also got rounds of 81 and 83 from Kristjan Toivola and Shane Harkness, respectively, clipped the second-place finishing Ephrata Tigers by eight strokes for top honors in the boys team scoring.
Ephrata was powered to its second-place finish by the day's medalist, Andrew Whalen. He toured the Sunnyside-area course on a bright and nearly windless Monday morning with a 2-under-par 70 (35-35). Also shooting a sub-80 round for the Tigers was Bryan Heer, who went out in 2-over-par 38 on the front nine and finished at 3-over 39 after the clubhouse turn.
Of the six Lower Yakima Valley schools competing yesterday, Sunnyside claimed the top finish. The Grizzlies, getting a fairly polished 8-over-par 80 from junior Chandler Luther, tallied the fifth lowest team score at 355.
"Placing fifth from this large of a field is a pretty good finish for us," said SHS Coach Gary Rohde.
The five other Lower Valley squads competing Monday included 13th-place finishing Prosser, which received a pair of team-low 93's from Macauley Homan and Riley Hogue; the 15th-place finishing Zillah Leopards, whose low scorer with a 101 was Brady Widner; 16th-place finishing Toppenish, which got a squad-best 101 from Adrian Pacheco; the 18th-place finishing Wapato Wolves, whose low round of 95 came from Garrett Jacob; and the 21st-place finish from the host Grandview Greyhounds, who could only muster up a 119 from their best golfer on the day, Matt Dailey.
A total of three linksters shot even-par 72 or better. Ephrata's Whalen bested the field of more than 90 golfers with his 2-under-par 70. Also under par was East Valley's Andrew Raab. The Red Devil finished at 71 with front and back side scores of 34-37. Mount Baker's Schemstad rounded out the trio with his even-par 72.
One stroke back of joining the select group was Cle Elum's Rylee Iacolucci. He went 37-36 for a 1-over-par 73.
Also carding sub-80 rounds were Mount Baker's King and Ephrata's Heer with identical 77's, and Beau Wangler of LaSalle and Keegan Crafton of Hermiston with a pair of 78's.
In winning medalist honors Monday, Whalen snared three birdies while only giving back a single shot, that via a bogey on the 210-yard, par-3 second hole. His tweeters came on the short, par-5 third hole, the dogleg right, par-4 seventh and on No. 14, a 500-yard plus, dogleg left, par-5 hole with a pond that fronts the left side of the fairway. The other 14 holes, Whalen got down in par.
In leading Sunnyside to its fifth-place finish, the junior Luther posted a solid 5-over 41 on the front nine. He parred five of the nine holes, absorbing bogeys three times. Luther's one blow-up before the turn came on the par-5 sixth, the toughest rated hole at Black Rock Creek. He, along with all three of his teammates, settled for double-bogeys there.
Luther got into an even cleaner rhythm on the back side, cruising down the stretch with a 3-over-par 39. His one and only birdie of the day came on the par-3, 17th. He closed out the back side stretch with a par on No. 18, one of five he recorded after the clubhouse turn. His back nine hiccups were a double-bogey on No. 10, and bogeys on 11 and 16, both par-4 affairs.
Rohde credits Luther's flat stick for his solid play yesterday.
"(Chandler) is putting much better right now," Rohde said.
Second in for the Grizzlies yesterday was junior Nathan Meyer. He posted an 88 on front and back nine scores of 42-46. Meyer's chief highlight from his 18-hole round was a birdie on the par-5 third hole. He ended up with pars on five holes and settled for bogey seven times. Meyer took double-bogeys on the five other holes.
SHS sophomore James Voorhies turned in his best round of this young season, shooting an 89. Voorhies remained consistent throughout yesterday, going 43-46 on the front and back. No birdies on his card, but Voorhies did par a third of the holes and picked up bogeys on nine others. His only real downfalls were a pair of double-bogeys and one triple, that coming on the par-5, 14th hole, where he absorbed an 8.
Rounding out the Grizzlies' team scorecard was freshman Ian Heffron's round of 98 (49-49). It's the first time ever Heffron has been under 100 for 18 holes of play. The underclassman had a few stumbles along the way, but found some solace in that he led the Sunnyside contingent with two birdies on the day. The tweeters for Heffron came on No. 3 and No. 8, par-5 and par-4 holes, respectively.
The host Greyhounds, with a couple of varsity golfers missing yesterday and going with JV linksters in their stead, had rounds of 119 (51-68) from Dailey, 122 (61-61) from Cameron Stinnett, 126 (60-66) from Sean Charvet and 133 (62-71) from Ty Adamson.
For Adamson, yesterday was his first 18-hole round in a competitive setting. GHS Coach Dave Uggetti said he was pleased with Adamson's front nine score. Uggetti also praised the front nine 51 carded by Dailey.
Mount Baker 313, Ephrata 321, Hermiston 334, LaSalle 336, Sunnyside 355, Cle Elum 361, East Valley 363, Selah 365, Othello 366, Warden 378, Riverside Christian 394, Ellensburg 396, Prosser 409, Cascade 418, Zillah 437, Toppenish 443, Wahluke 445, Wapato 457, West Valley 469, Highland 497, Grandview 500, Royal 515