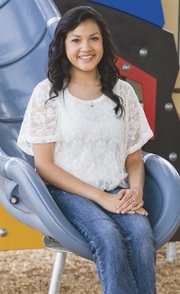 Wanting to contribute to her community, Sunnyside's Ebony Chavez is seeking the 2012-13 Miss Sunnyside title.
She said it's important to help others in the community and she would be eager to serve in any role on the court, but she most wants the crown to complete her proposed community service project.
That project would be working with Sunnyside's Promise to create a program emphasizing the arts. Chavez said not everyone is sports-minded and she believes youngsters need an opportunity to explore interests in performing arts, as well as creative arts like painting and crafts.
"They are our future and I believe it's important to develop their interests while they are young," the Miss Sunnyside candidate said of the children.
As a Grizzly Dance Team member she discovered a passion for dance, something she didn't know she would enjoy before. Chavez said she would have liked to have had the opportunity to participate in a program that fostered the creativity when she was younger.
"Younger children don't always know their potential, so I'd like to help them learn they are capable of many things," she said, stating dance, drama, painting, crafts, music and other artistic forms of self-expression would be emphasized if she is able to develop such a program.
"I want to encourage youngsters in the community to express themselves," said Chavez.
Because serving the community is her foremost priority, Chavez said she would also be eager to support the community project of whoever does win the 2012-13 Miss Sunnyside title, however.
She said, "It would give the community an opportunity to become more familiar with me and I would be serving those who live in Sunnyside."
That service includes the enthusiasm and desire to help those not living in the community learn more about Sunnyside.
Chavez said she would enjoy the opportunity to learn more about the programs offered at the Sunnyside Community Center.
"I would like to show visitors how the programs impact the youth in a positive way, making Sunnyside a better place to live," she said.
She said she strongly believes in all that Sunnyside's Promise is trying to accomplish and plans to volunteer at the community center whether or not she is selected to serve as Miss Sunnyside.
Another location that she believes is important to the community is the Sunnyside Museum. Chavez said it's a great place for people to visit and learn about the history of the community.
"It's good to give people an overall perspective and understanding of our community and its roots," said Chavez.
She said Sunnyside High School also stands out in the community.
"I am proud of all that has been achieved there," said Chavez, stating the high school is a place where one can come in contact with a variety of talents, entertainment opportunities, visit the Wall of Fame and learn about the modernization of the building.
"I'm proud of how nice the new buildings and the black box (theater) look," she said.
"I know the school will become a better learning environment."
Chavez said her plans for a continued education include college. She has a desire to become an engineer and knows there will be a lot of work to achieve that goal.
"The field of engineering interests me because there's a certain amount of control in learning about how things work from the foundation to the completed product," she said.
Chavez is the daughter of Crystal Chavez, and her pageant sponsors are Fashion Corner and Celina's Styling Studio.
The Miss Sunnyside Pageant will be staged on Saturday, Sept. 15, at the Sunnyside High School auditorium.