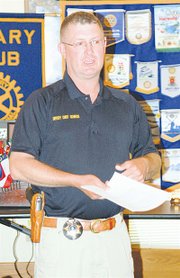 "Gang members need to live two states away," said Sunnyside Deputy Police Chief Phil Schenck as he talked about the city's gang elimination program, and why he refuses to call it a reduction program.
"We want the gangs gone," he said. "We don't want to reduce their numbers... we want them out of here."
Schenck described how his officers knock on the doors at gang members' homes once a week just to say, "hi."
"We want everyone to know that the police are here to help," he said. "Even the gang members need to know that."
As a result of officers' efforts to keep tabs on gang members, all gang members in Sunnyside with warrants have already been arrested, according to Schenck.
He described the city's efforts as a counter-insurgency model. The problem exists within the community and is even woven into the fabric of society. As a result, the police need to gain the trust of the community and keep it.
He said police encourage gang members to move away, but not just to get rid of them.
"Say a person is addicted to heroin. And so is everyone that person knows, their parents, their friends, their family," Schenck said. "How easy is it to quit?"
Some of the gang members in the area are multi-generational. In some cases, the only way out of the gangs is to leave everything a person knows, Schenck said.
In the meantime, Schenck's goal is to make life for gang members miserable and make the city feel safe again for the rest of the population.
He noted that children can be seen out in the streets playing again, when two years ago it was considered too dangerous by most parents to let their children out.
"Every time you drive across town," said Schenck, "you should see a cop."
The increased police presence has led to some impressive statistics. While a national downward trend in any crime area of 3 percent is considered amazing, Sunnyside has managed an impressive 85.3 percent decrease in residential burglaries from the seven-year average for May. Thefts are down 46.3 percent from the seven-year average for May.
Sunnyside police are catching more drunk drivers, with DUIs in May up 233 percent from last year and up 185.7 percent compared to the seven-year average for May. That means less drunk drivers are on the road.
The statistics paint a clear picture of less crime, and Schenck credits his police force for the change.
"It's working," said Schenck.