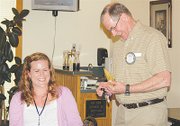 Natalie Curfman started off with the mission statement of Catholic Child and Family Service: "Motivated by Christ's love, we bring hope to life, especially to those most in need."
Speaking to the Sunnyside Noon Rotary Club this past Monday, Curfman, who is the program coordinator for Volunteer Chore Services, said that her job is to connect volunteers with clients in need of services ranging from housework to transportation to yard work.
The organization is always looking for more volunteers, who can do as little as a single project or as much as a few hours a week. The volunteering benefits people who are elderly or who have disabilities that make it difficult or impossible to manage certain tasks.
Curfman spoke of a Vietnam veteran who lost a leg to diabetes and needed assistance with yard work. Volunteer Chore Services helped and also provided a wheelchair ramp for his home.
While the organization needs all kinds of volunteers, Curfman noted that "volunteers who do housework are few and far between."
Becoming a volunteer requires going through an application process that includes a state patrol check and three references.
For more information on volunteering or to recommend a client for the program, contact Curfman at (509) 839-8260 or email at ncurfman@ccyakima.org.