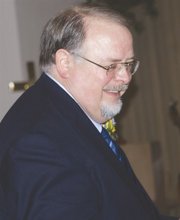 After 30 years, Pastor Michael Hughes of Sunnyside First Baptist Church is retiring this month. Starting next month the church will be served by an interim pastor.
Hughes began with the church in January 1982, noting the decision to move here was a "faith conviction" for he and his wife Linda.
"We knew this was it," he said.
Hughes said he and Linda's focus upon moving here was to try and build up what was at the time a small church.
"What we've tried to do is reach out through family relationships," Hughes said. "We just tried to minister to people's needs and be there for them."
Just as his congregation has grown over the years, so too has Sunnyside.
"When we came here it was very much a small town feel," Hughes says. "It used to be I could drive to the corner and go, now you have to wait for traffic.
Beyond his congregation, Hughes has been involved in the Sunnyside community, whether as president of the ministerial association or director of a crusade in the 1980s that drew 10,000 people to the SHS gym over a period of four days to hear Evangelist Franklin Graham.
He was also involved in a Lower Valley musical company, playing lead roles in South Pacific and the Sound of Music.
Following their retirement this month, the couple will move to Snohomish to be closer to children and grandchildren.
He says he'll miss the friendships established in Sunnyside, but is looking forward to a new ministry chapter.
"I'm looking to being with the grandchildren and ministering to family," Hughes says.
As for hobbies in retirement, he already has at least one in mind.
"Our house is two blocks from a fishing lake," he smiled.