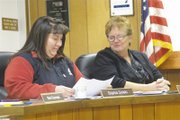 MABTON - The Mabton City Council last Friday approved the city's $1.7 million budget for 2012 after changing the amount of Police Chief Rick Gutierrez's allotted salary.
The proposed 2012 salary for the chief was $5,200 per month, but Councilwoman Sophia Sotelo noted the city's general fund is low.
She said the addition of a salary for reserve officers, who weren't paid in previous years, and a $1,000 monthly raise for the police chief may have amounted to over-extending the city's budget.
Councilman Mario Martinez and Mayor Angel Reyna both said a raise was in order for Gutierrez.
"I wish this discussion had taken place at an earlier meeting," said Reyna, stating the police chief did not receive a salary hike in 2011 and he wants the chief to continue serving the citizens of Mabton.
Martinez said, "We're trying to keep quality people and we know they are in demand."
He noted the city is working toward the goal of seeking out grant funding opportunities to help sustain and improve some services.
"(The police chief and reserve officers) are doing a good job and deserve it (wages)," said Martinez, stating the salary for reserve officers ($16.50 per hour) is less expensive than the salary for a fully commissioned officer.
Reyna said, "The chief has done great work and...I'm willing to step up for him."
He said Gutierrez was deserving of a pay raise and he had promised the use of a vehicle when Gutierrez was initially hired.
The council reached a consensus, agreeing the police chief was deserving of a raise. However, the raise approved was $700 per month. He will also receive a $300 monthly allotment for the use of a vehicle.
The council also agreed to revisit the issue in six months if the city's revenues improve due to grants or other means.
Councilwoman Vera Zavala said, "We can always amend the budget."
As a result the 2012 budget was approved as was an ordinance setting the salaries for city staff for the year.