Monday, February 27, 2012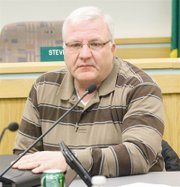 The Sunnyside City Council, in the interest of hearing from current City Manager Mark Gervasi and three other interim city manager candidates, will tonight hold an executive session before deciding the next step for replacing Gervasi.
This past Saturday, during a special meeting the council was undecided on how to proceed with the process of finding a replacement for the city manager. Gervasi's resignation submitted earlier this month indicated his last day of service to the city of Sunnyside will be April 6.
However, Councilwoman Theresa Hancock Saturday told the council she has asked Gervasi directly if he would be willing to help with a transitioning process.
Mayor Mike Farmer said there have been three resumes submitted to the city for the interim city manager position. A contract firm has also submitted a list of qualifications that could be used in the process of finding a permanent city manager.
Councilman Jim Restucci said, "Stability is a good thing...there have been a lot of changes over the years."
He, too, indicated Gervasi, who was not present for Saturday's meeting, is willing to help with the transition process.
Hancock said, "I think it would save a lot of time if Gervasi helped with the transition."
Farmer said he believed Gervasi would have notified him if there was a willingness to help with the transition.
"You didn't ask him," said Hancock, stating the mayor could have spoken with Gervasi, but didn't.
"I don't have a right to tell you to ask him...I did ask him," she said.
Councilmen Don Vlieger and Jason Raines both felt the council should adjourn to an executive session Saturday to discuss the turn of events. Neither had received any notice that Gervasi was willing to help with the process.
"When we are talking about personnel matters, we need to do so in executive session," said Raines.
Farmer didn't immediately agree, but eventually acquiesed.
When the council reconvened, Hancock said she wanted the Sunnyside City Council to extend the city manager's contract to allot time for a transition.
She made a motion and Restucci seconded it. However, the council continued to discuss the matter further.
Vlieger said, "This is exactly the problem...Gervasi went outside of channels. We're close to a financial meltdown and things have to change...we have a serious problem with management."
Hancock countered, stating the council has interfered with city management and council was responsible for the budget problems.
"We spent $500,000 just after approving a two-year budget," she said, adding she believes Gervasi has been a good city manager and has gained the respect of the community.
She and Restucci also noted the city council in its job performance review last December gave Gervasi a favorable review.
"It's our job to have a dialogue with him," said Hancock.
Raines said he believes Gervasi's resignation was sufficient evidence that "...he has made his wishes known."
Restucci said, "He's had two good evaluations. If he wants to stay on and help, I support that...we haven't even accepted his resignation."
The city council is scheduled to address Gervasi's resignation request at tonight's regular council meeting.
Raines on Saturday said, "In all due respect, we don't have to formally do that."
Hancock argued the council didn't even pose questions of Gervasi when he announced his resignation. She believes the city council members would have served the citizens well to do so.
Raines implied Gervasi's resignation was strategically planned. "It carries a lot of weight...it makes great news headlines."
Vlieger said he can't support Gervasi serving on an interim basis. "I know the work product."
Councilman Nick Paulakis spoke out, saying, "I don't want to have a repeat of this meeting."
He said the council should make a decision regarding the issue of securing an interim city manager. "That individual should explain his plans and why they want to serve on an interim basis."
Paulakis said the same applies to Gervasi.
Vlieger said Gervasi was out of turn when he shared with certain council members his willingness to serve on an interim basis. "He should have express his willingness to the mayor."
Several council members ensued in a back-and-forth discussion before the council decided to hear from all the potential candidates who have submitted resumes.
What was not made clear is whether or not those individuals are currently employed by the city of Sunnyside. State law (RCW 35A.13.150) states, "The council may designate a qualified administrative officer of the city or town to perform the duties of manager."
Farmer was directed to contact the candidates, asking them to attend the meeting tonight (Monday) for the purposes of discussing their interest in serving as interim city manager during an executive session.
The decision was made by a 6-1 vote, with Raines being the lone holdout.