Thursday, February 23, 2012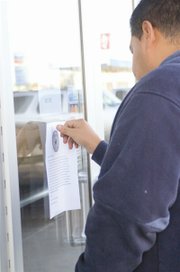 When Guerra's Coffee Company in Sunnyside wasn't open Tuesday morning, many in the community began asking questions.
Several community members reached out to the company's social media site, asking if the news that Guerra's had closed was true.
It was true.
Nearly three years ago, in April 2009, the company opened its doors on South First Street, quickly fulfilling the Guerra family's vision of creating a community hub.
Aaron Guerra, 29, the company's manager, along with employees and owners worked to make the coffee shop a place where people could go to sit, talk and conduct meetings. The business offered art showings, espresso, live music and also participated in many other community events.
But because of a downturned economy the Guerras began negotiations with the landlord on lease terms. An agreement wasn't reached, forcing the coffee shop to unexpectedly close.
"The lease was too high," Guerra said.
He says the coffee shop was a huge success but just couldn't compete with today's economy.
"...with coffee prices increasing more than 120 percent over the last four years, and minimum wage going up, again, it was too much," he added. "Even though we were getting people through the doors, our expenditures outweighed our revenues."
When the Guerra family opened the business, they wanted to bring a bit of Seattle's coffee culture to the Lower Valley.
"I think we accomplished our goal," Guerra added.
The Guerra family also owns Guerra's Deli and Café located inside Sunnyside's Mid Valley Mall.
"You can still find the same great people and same great coffee at the mall," he added.
Guerra says the company is looking for another place to open its shop, but for now is inviting the public to visit them at the mall.
"We want to thank everyone for their patronage," he said.
Guerra says most of all, he loved to meet and greet visitors of the shop.
"We didn't just gain customers, we made friends," he said.