Tuesday, February 21, 2012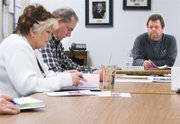 Port of Sunnyside Executive Director Amber Hansen is retiring in December of this year, and the search for someone to fill her shoes has started.
At Monday night's Port meeting, the commissioners approved changes to salary ranges in the job descriptions of five positions at the port, including the executive director position. The advertisement for the position of executive director will reflect the new salary range.
Hansen has been working for the port for more than 20 years, first as a lone employee working out of an office at city hall. She has overseen some of the most productive years of the port's existence and has worked on many projects that have benefitted the city and local industry. Her retirement has been planned since last year.
Also at the port meeting, commissioners were updated on the ongoing battle against sage rats in the port's spray fields. Gary Holwegner, port spray field manager, told commissioners that efforts were working where they could be applied, but the number of the vermin is high this year and has increased each year recently and certain methods of clearing them out cannot be used in some areas due to existing infrastructure.
Holwegner stated he believes the rat population goes in cycles and the creatures are near the height of their potential population. The sage rats tend to nest in irrigation boxes and chew through wires, requiring costly repairs.
Holwegner also updated commissioners on the ongoing effort to rehabilitate port fields that contain high levels of salt. The efforts of the port have been working to restore the soil.