Friday, February 10, 2012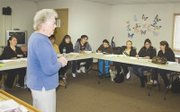 Ana Romero learned how to speak English thanks to Nuestra Casa in Sunnyside.
Today the mother of three is preparing for college with help from prep classes the non-profit started offering last week.
Romero spoke no English when she first started taking ESL classes at Nuestra Casa seven years ago.
Now she's fine-tuning her English skills along with about 20 other adults who hope to attend college.
"They've helped me to believe in myself," says Romero, who wants to become a nurse. "They encouraged me to get my GED and Sister Mary Rita (Rohde) encouraged me to go to college."
Besides advanced English, Nuestra Casa this week will also begin offering college prep math classes.
Rohde says the impetus for the advanced courses came when she realized adults were getting their GED with help from Nuestra Casa, but didn't have the skills needed for college.
Two years ago, Rohde noted, one of the women went through the program and got her GED, but when it came time for college she was required to take Math 050. The course, like all sub-100 college courses, is charged at full tuition but doesn't provide college credit. Instead it improves skills to the point students can enroll in 100-level courses.
To avoid that scenario for her students, most of whom can't afford to pay college tuition for non-credit courses, Rohde and Nuestra Casa obtained a $15,000 grant from the Yakima Valley Community Foundation.
That, paired with almost $5,000 in other grant money, is paying for curriculum, materials and instruction for advanced English and math classes at the Sunnyside non-profit.
"They're excited," Rohde says of students in the college prep program. "They know it's difficult, but they want so badly to learn English, to better themselves and their children."
For Rohde, who will mark her 10th year at Nuestra Casa next year, it is gratifying to see adults with no English background get to the point they not only learn English, but want to enroll in college.
"When I stop and think about it, it's wonderful," Rohde said. "Women who knew very little English now have a goal of going to college."
Rohde, a former college professor, is tickled for Romero and her goals of going first to YVCC Grandview and then Heritage University.
"She'll do it," Rohde smiled. "She's very smart, very dedicated."