Monday, December 31, 2012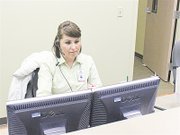 GRANDVIEW - With 38,000 medical patients expected to walk through the doors at the Yakima Valley Farm Workers Grandview clinic in 2012, an expansion and updates to the facility were in order.
The facility benefited from a $12 million federal grant awarded to the Yakima Valley Farm Workers Clinic organization in 2010. With part of the funds awarded, the Grandview clinic now has new digs to help better serve its patients.
The U.S. Department of Health and Human Services funding helped the clinic expand three of its facilities in the Yakima Valley to serve an expected increase in caseloads. Officials at the clinic projected nearly 12,000 dental patients and 75,000 prescriptions to be processed this year in Grandview alone.
The projects included $2.3 million in upgrades to the Grandview Medical-Dental Clinic; $1.3 million to make improvements at the Lincoln Avenue Medical Clinic in Yakima; and $8.7 million towards new computer equipment for a brand-new data center in Toppenish.
Construction and remodeling in Grandview began November 2011, says Lower Valley Regional Operations Manager Micheal Young.
The facility was built in 1997 and hadn't received updates since, says Young. The dental offices earned much of the construction's attention with a completely revamped area, including new chairs, equipment and a completely remodeled area that allows seating for family members of patients inside the dental offices.
Also new to the clinic's waiting areas are child play centers. The play centers include Play Station game consoles, and other toys and activities to keep the children busy while they wait.
"Children are very important to us here," Young added.
Additions and renovations were completed this past October and much of the other offices in the facility received paint and new carpet, "to spruce things up," Young said.
Overall, the Grandview facility received upgrades to its main lobby, dental offices, call center and nurses stations. Young says the renovations weren't just to improve the aesthetics in the facility, but to improve the functions and flow at the clinic.
"We are able to offer better delivery of care," Young said.