Monday, December 10, 2012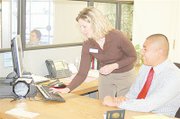 GRANDVIEW - "We are small and mighty," said Debbie Southern, manager of the Grandview branch of Bank of America.
On the average day the branch has a steady stream of customers, keeping the staff on their toes.
"It's good to be busy," said Southern.
She's been working for Bank of America for 33 years and started out as an on-call teller, ready to fill in for anyone sick or absent. She eventually became a regular teller and moved up through different levels of seniority.
During her time at the bank she has seen the conversion from doing everything manually to the domination of computers in the process.
"We used to manually check signatures," she said. "We did our own statements. We had to make sure numbers matched, or it was back to the drawer of checks to see what we missed."
Southern was born in Yakima and has lived in the county all her life. She moved to Sunnyside about the time she started working at Bank of America.
She has three children, a 30-year-old son with Down Syndrome and two younger girls.
"He keeps us busy," she said. One of her daughters is a vet tech, the other works at Papa Murphy's Pizza in Sunnyside.
The family enjoys visiting nature trails, as long as they are handicapped accessible.
She's also been making Christmas stockings with her daughter, a craft project involving cross stitch and strip quilting. She said it started with just the family, but they've made more than 100 now for family and friends.
Southern enjoys her job at the bank.
"I wouldn't have hung out 33 years if I didn't enjoy it," she said. "It's very rewarding helping people out, opening their first bank account, first loan, their first credit.
"You get to know your customers in a small community," she said. "For us it's about building relationships."