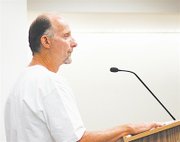 Four citizens stood up during the public comments portion of the Sunnyside City Council meeting last night and urged the elected officials to put Interim City Manager Frank Sweet on administrative leave until his legal problems have been resolved.
Sweet has been charged with theft and destruction of public records stemming from his time as city manager of Selah.
The public comments on the subject were started by Bob Widmann, pastor at the Cornerstone Assembly of God in Sunnyside.
"I feel it is imperative that you place Frank Sweet on administrative leave until he has resolved the issues and legal challenges that he is facing," said Widmann.
"If any other public employee, including those in city hall, those on the fire department, those in our police department, from the patrol officers to the deputy chief, if they were facing the same legal issues that Frank Sweet is they would be immediately placed on administrative leave."
Widmann argued that there is a double-standard being applied that violates the code of ethics of the city.
Widmann's comments were commended by former Councilwoman Bengie Aguilar, who asked why nobody from the city council was responding during the public comments. She also said putting Sweet on administrative leave would be good for his future networking.
Mayor Mike Farmer responded that 100 percent of the council is in support of Sweet and that the council has been in consultation with its attorneys and feels it is on solid ground.
Widmann was allowed to speak a second time and told the council that the double-standard puts the city out of alignment and will cause the city to crash. He also asked members of the council to raise their hands if they were certain Sweet was innocent.
Two other citizens also stood during the public comments time and questioned the decision of the council to leave Sweet in his job, one asking what would happen if Sweet was guilty. The other citizen read a recent editorial from the Yakima-Herald Republic, which calls for the council to place Sweet on administrative leave.
Ron Stremler also stood to speak during the public comments, but he commended the council for keeping Sweet on the job.
"I think he's the first city manager we've had in years that's tried to get our expenditures under control," he said.
"It looks a lot more politically motivated than actually a crime, perhaps," said Stremler, noting the situation in Selah. "If for no other reason than that I commend you for keeping Frank on."
Later in the meeting, during time set aside for council members to make comments, Councilwoman Theresa Hancock addressed the public comments made earlier.
"I hear the public, and I hear what the public here tonight said. And I am listening," she said. "I, for one, continue to support Mr. Sweet and will go on record saying that. I just want to make that clear that I don't take it lightly and I understand their concerns. But I will continue to support Mr. Sweet until I see something that brings into question his fitness to serve the city of Sunnyside."
Deputy Mayor Don Vlieger spoke next, saying, "And I want to shock the public and fully agree with Theresa."
Councilman Jim Restucci spoke up to state that the council was not being rude by not responding to the public comments, but they did not respond because they are not allowed to respond during the public comments portion of the agenda by the rules of order.
"The purpose of the microphone is to get the public's input into what's happening, not to enter into a debate," said Vlieger.
"We hear what people are saying," said Councilman Jason Raines. "We are also are aware of some other things going on, and more research is going on, and if there was any question or concern about the action we are taking, council members would be stepping forward and voicing those concerns. Right now we as a council all agree on the course of action we've decided on."
"Which never happens," said Vlieger.
"If there was something happening to the city of Sunnyside, I'd be the first one to stand up and say 'off with his head!' or whatever," said Hancock.
"If we felt like there was any danger of any harm being done to the citizens or anything in our city, we would be taking action to safeguard our city," said Raines.
"We do not feel at this time that it's something we need to take action on and we're watching the situation to see how it develops and right now we're comfortable with our decision," Raines added.