Wednesday, August 1, 2012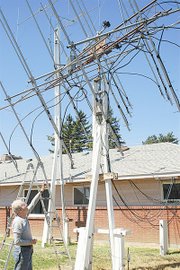 Radio waves and Morse Code are passé in this digital age, but they are alive and well at Glenn Skinner's home on Sunnyside's Harrison Hill.
With dominant towers in his back yard and dials and buttons abuzz inside his small home office, Skinner reaches out to far-flung locales ranging from Germany to Jersey, from Australia to Alaska.
Using a process known as moon bounce - or more officially Earth-Moon-Earth - Skinner uses the big antennas to reflect radio waves off the surface of the moon back to points around the globe.
Once a connection is made, Skinner and company communicate via Morse Code to confirm the signal's strength.
E-mail, texts and Skype may be much quicker ways to communicate around the world than big antennas and a squawk box, but using age-old technology in the 21st century has a special appeal for Skinner.
"I was a kid during World War II and radio was your entertainment," says Skinner, 78, a retired family physician. "I liked to listen to the radio, still do."
His interest especially piqued when growing up in Delaware he built a radio from a kit and was able to pick up programming from Des Moines, Iowa.
In the late 1990s he began exploring the possibility of not just reaching Des Moines, but the moon with his radio signals.
"I had quite a few failures," he laughs.
His big breakthrough came on July 31, 2005 - Skinner keeps a log of every moon bounce contact - when he reached Germany.
Since then his Sunnyside radio tower has reached out to points around the U.S. and as far as Sweden, Puerto Rico, Denmark, Italy and England.
"It's the enjoyment of it and fussing around with it," Skinner says as he fiddles with first one dial and then another to direct the antenna's movement.
There's also something reassuring about the glowing lights and warm hum - like percolating coffee - emanating from the bank of knobs and switches pointing him to the moon.
"If the radio is working then the world must be all right," Skinner smiles. "If not, I'd hear about it."