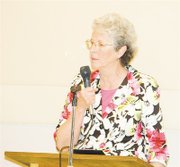 PROSSER - Donna Kilgore was introduced as a woman who would rather spend time weeding her garden than spending time shopping.
"I don't like to shop," she said, addressing those in attendance at the Lower Valley Christian Women's Connection luncheon at the Barn Restaurant in Prosser this past Tuesday. She said that she arrived early for the meeting, and with an hour to spend, went shopping at Chukar Cherries.
"I guess the only shopping I like to do is buying things to eat," Kilgore amended.
Getting back to her subject, she talked about having too much to choose from while shopping.
"I think I should have been a pioneer woman," Kilgore said. "With only one trip to a store in a month, and only one brand to pick from, I think I would prefer it."
She talked about the difficulties of shopping for Christmas, and how she tends to wait until the last minute so there are fewer choices of items on the shelves.
"I'm so grateful for gift cards," Kilgore said. "It's very hard to pick a gift."
Turning the topic to her own history, Kilgore said she grew up having a simple life with few amenities.
"I remember making my own paper dolls," she said. "Store bought dolls were not on my radar."
She married her high school sweetheart when she turned 18, and the two of them were not churchgoing. But after the death of her brother, she found herself returning to church. And then the family moved into their first home, and a neighbor took Kilgore to church with her.
Kilgore says she was overwhelmed by the experience in this new congregation, and the pastor came to visit her the next day, answering her questions.
At that point, Kilgore says, she received the perfect gift through prayer and acceptance of Jesus Christ. She suddenly gained interest and insight into the Bible, and the fact that she was constantly reading it got her husband interested, and he started going to church as well.
Their faith was tested repeatedly, losing their home first. Kilgore said the experience made her depressed and it took her time to turn back to religion. She quoted Corrie TenBoom, saying, "If God sends us on strong paths, we are provided strong shoes."
And Kilgore needed strong shoes. Her next loss was her daughter in a fire. She found comfort in the Bible.
"I learned that how I respond, my heart attitude, has a lot to do with how I get through," she said.
The hardest loss for Kilgore was her 21-month-old grandson, who died after an 8-month fight with leukemia.
"I learned it's ok to ask why," she said. "God has broad shoulders."
Kilgore concluded her talk with the statement that the perfect gift is not available for any amount of money.
"It is a gift," she said. "There is nothing you can do to earn it. You simply must receive it."