Thursday, September 29, 2011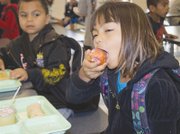 When adults think of school lunches, they often remember mushy, gray vegetables and not-so-appetizing meats.
Sunnyside students don't, however, get the meals their parents did.
Instead, there are fresh, tasty veggies and fruits. The pasta and bread is usually made from whole grains and the students are served favorite foods like pizza, hot dogs, hamburgers and other popular staples.
That's according to Sunnyside Food Services Director Yvonne Ramirez and many students attending Sierra Vista Middle School.
Those same middle school students said the elementary school meals were even tasty when they were in grade school, with a few exceptions.
Adrian Campos, an eighth grade ASB officer, said he was never fond of the enchiladas served in elementary school.
"They were like tacos with cheese and sauce poured over the top of them," he said.
The biggest complaint about the elementary school meals from the middle school students was the lack of options available to them.
In middle and high school students are given the option of choosing what they put on their tray. The students, said Ramirez, must choose a hot entrée, a fruit and vegetable and milk.
She said the older students have more options because they are capable of selecting foods that comply with USDA requirements.
Younger students, however, are not as capable and are provided standard meals that are on the menu. The meals, said Ramirez, must comply with USDA guidelines and requirements.
Menus, she said, are planned in advance. "I usually plan them three or four months in advance for ordering purposes. The food items must be purchased in bulk to stay within the budget," she said.
The middle school students said there are picky eaters. As a result, food was often thrown out when they were in elementary school.
"That is the biggest problem...picky eaters," said Karla Villanueva.
"The food is good," she said.
The students were divided regarding the fruits and vegetables offered at the various elementary schools. One student said she only had one fruit offered each day at the school she attended, but another student said his school offered students two fruit options each day.
Ramirez said the school district participates in the USDA Fresh Fruit and Vegetable program, so students in elementary school are offered fruit as a snack as well as with lunch.
She said portions are served in accordance with the USDA guidelines, as well.
"The main focus is on fresh fruits and vegetables, and having a balanced diet," said Ramirez.
For that, the students are pleased. Many of them enjoy having fresh fruit and vegetables available to them.
They said there are popular entrees, as well. Pizza, hamburgers, nachos and the Chinese entrée all top the list.
That was evident at the table where the students were being asked about the lunches.
Three students not choosing to eat were hovering over the table and when asked why they weren't eating they responded, "There are lots of options, but they are the same options each day...we don't want to eat."
The students who were eating said the trio was an example of those who are picky eaters because in the middle and high school there are enough options available that no student should have an issue.
"Plus, the options change," said Liliana Cisneros.
She said the one item she doesn't get to enjoy as often as she would like is the hamburgers. "They are usually gone by the time I get to the window, but I have other foods to choose."
The middle school students said they have noticed less food makes it into the trash at their school.
"That's because we selected it," said Campos.
Ramirez said it would be an ideal situation where every student enjoyed every meal offered at school, but that's unrealistic.
She said elementary students are usually served the popular food items to ensure they eat properly.
Ramirez talks with food services staff to find out what the students are eating and uses past menus as a template for planning.
She said there are occasions when a new menu item is added to see how students respond to new foods. The food items are carefully planned and served in smaller portions just to gauge the response. A larger, more popular food item will still be served on the same menu.
"I also run foods by my husband who was a picky eater as a youngster," said Ramirez.
"Nutrition is a priority and we also work with local farmers to find creative ways to work within the budget," she said, stating the food services department has a tight budget.
"We want the students to learn healthy eating habits," said Ramirez, stating farmers help provide the fresh produce served at Sunnyside's schools when the produce is in season.
One of the middle school students said, "We're glad the fresh fruit and vegetables are available. There's something for everyone."