Wednesday, October 26, 2011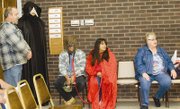 GRANDVIEW - The bulk of the Grandview City Council meeting last night involved a presentation on the water and sewer rates in the city.
In a presentation to the council, engineer Ted Pooler explained the current situation of the water and sewer systems in Grandview.
Pooler said that due to loss of revenue caused by the fire at Wild River Foods in 2008, the water and sewer rates in the city have been rising faster than inflation to make up the difference. The rate increases were reviewed this year and the water department discovered revenues have been lower than estimated, leading to a slower recovery of the sewer fund.
In order to keep the water and sewer funds self-sufficient and to continue with scheduled capital improvements, Pooler explained that rates will need to continue to be raised at the same level as in previous years.
Pooler presented the council with three scenarios to consider.
The first case would continue rate increases and projects, which would result in a 6 percent rate increase in both water and sewer for 2012 and 2013, with water rates dropping to a 2 percent increase in 2014 while sewer continues at a 6 percent increase until 2016.
The second case would delay the capital projects, risking losing matching state funding in the process, but lower water rates to a 2 percent increase while keeping the 6 percent increase in sewer rates. The sewer rate increases would drop to 4 percent in 2015.
The third case, according to Pooler, would weight the rate increases toward sewer while keeping water rate increases low. The water rate would increase by 1.5 percent for the next few years while the sewer rates would increase by 10 percent in 2012, 8 percent in 2013, 7 percent in 2014 and 2015 and drop to a 6 percent increase in 2016.
The council asked the water department to return with a mixed proposal for the full council to consider at the next meeting. The council was short-handed due to illness, but still had a quorum.
Laura Gjovaag/Daily Sun News
Cookie Shannon (far right) was the spokesperson for the seventh annual Haunted House and Halloween Carnival as committee members arrived in costume to thank the Grandview City Council for approving the closure of 100 block of Division Street for the event. The festivities will be held on Friday, Oct. 28 and Saturday, Oct. 29, from 4:30 to 10:30 p.m.