Tuesday, November 29, 2011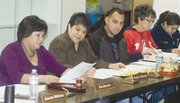 MABTON - Yesterday morning state lawmakers went to work in Olympia for a budget-crunching special session.
What happens during that session will impact how the Mabton School District moves forward with a levy replacement measure.
That's according to action taken last night by the Mabton School Board in approving a first reading of a draft levy that would replace the current one.
Superintendent Minerva Morales said the district will have to wait to see what cuts the legislature makes before finalizing the levy. During last night's meeting she said cuts were unavoidable, but that the district is hopeful the state will not do away with levy equalization funding, as has been suggested by Gov. Chris Gregoire.
The district's current levy is $195,000 for four years and expires next year. The rate paid per $1,000 of valuation is $1.39, about $139 per year for a house valued at $100,000.
Levies exist to help cover maintenance and operations costs.
Morales told board members last night that Mabton will have to file the levy proposal by Dec. 30 in order to get the levy for voter consideration on the February 2012 ballot.
After last night's meeting she noted that the duration and rate of the replacement levy will be finalized for school board review next month, pending action during the special session in Olympia.
Morales suggested that the levy presented to voters next year will be in the range of $195,000 to $229,000.