Tuesday, November 22, 2011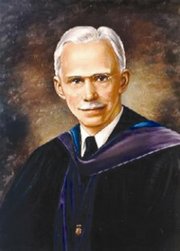 In the Nov. 18 edition of the Daily Sun News, in the weekly column "Over the Shoulder" there appeared this item under 100 Years Ago (1911): "Sunnyside Nursery Company shipped 30,000 Christmas trees to Oregon, more than doubling the nursery's business from the previous year."
I thought it would be of interest for DSN readers to hear "the rest of the story." This nursery company was started in 1909 by Walter S. McClain and H.M. Lichty and employed one Alva J. McClain, who became skilled in raising, pruning and budding apple trees.
Alva was 20 years of age when he began working for his father and history would note than those were the years when he was a "tad on the wild side."
This was the same Alva J. McClain who would attend the University of Washington and became both the school's quarterback and speedy member of the baseball team. But God had Alva J. in His sights for a far more important future.
In 1912 the pastor of the Sunnyside Brethren Church invited Evangelist Louis S. Bauman to hold meetings. Alva and his wife, Jo, attended on a Monday evening and heard a message on Biblical prophecy. Both husband and wife then and there made a commitment to Jesus Christ as Savior.
That step led to studies at the Bible Institute of Los Angeles, then Xenia Theological Seminary in Ohio. Those studies led to Occidental College in Los Angeles and both B.A. and Th.M. degrees.
Alva and Jo served in several pastorates and he would travel extensively as a Bible speaker and teacher. He served with distinction as professor in several theological schools. Now as Dr. McClain, he was known for his writings and books and as the founder of Grace Theological Seminary at Winona Lake, Ind. The campus also is home to Grace College.
The McClain family arrived in Sunnyside at the turn of the century. Alva J. was 12 years of age and became fast friends with Guy Lichty who gave him his nickname, "Mick."
During his years here he made many friends, but the Friend he met at that evangelistic service in 1912 led him "all the way." On Nov. 11, 1968, at the age of 80 years, he was ushered into the presence of the Savior he had so faithfully served.
Quite a testimony for a lad who some said had been a "tad on the wild side."
- Chuck Winter is the associate pastor of senior adult ministry at Sunnyside Grace Brethren Church.