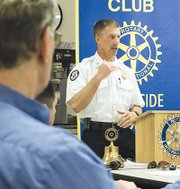 Sunnyside Fire Chief Aaron Markham was the scheduled speaker for the Sunnyside Daybreak Rotary Club Wednesday morning, and the timing couldn't have been better.
Before talking about Sunday's big downtown blaze, Markham gave club members an update on activity in his department.
He said the highlights this year include adding the department's first female firefighter and a renewed focus on offering CPR and first aid classes to the community.
As for the downtown Safari and El Conquistador restaurant fires, Markham praised other departments who came to the city's aid.
In particular, he noted the Grandview Fire Department and its ladder truck was on site for 24 hours to help battle the blaze.
Markham also praised local media for supplying photos for the ATF's investigation. He said the photos helped the agency provide a quick discovery as to the fire's cause.
Looking ahead, Markham said the city is negotiating with an architect to design a new fire station near the downtown spot it now occupies.
The new station would be big enough to house a ladder truck. Markham said one is needed for fires like that at the Safari and for the city's taller buildings, such as the new high school building.
Markham also noted the ladder truck could be used for rescue situations.
The chief indicated the city may consider asking residents to approve a bond to help pay for both the new fire station and the ladder truck.