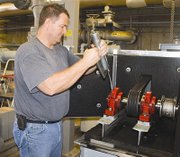 Gerald Roy knows fruit.
As a lad the Sunnyside native picked fruit, as an employee at Valley Processing he processed fruit and while working at a former Safeway plant in Grandview he bottled fruit juice.
For the past nine years he's worked for the Port of Sunnyside operations plant on Midvale Road, which treats the wastewater from fruit processing.
Since 2006, Roy has been the facilities technician at the Port of Sunnyside's wastewater treatment plant.
He started working at the port as a lab technician, and that experience along with the experiences at Valley Processing and Safeway has served him well as one of two facilities technicians at the port's plant.
"I'm responsible for the day to day operations of the industrial wastewater treatment facility," Roy says.
That means more than monitoring the wastewater and making sure the port meets Department of Ecology's stringent guidelines.
"There's something different every day," Roy smiled. "It's not the same old boring routine."
As an example, his responsibilities include maintaining the facility's equipment.
Along the way, he's taken coursework while at the port to the point that he is now a state-licensed wastewater plant operator.
He says one of the more challenging aspects of the work of a facilities technician is keeping up to date on new permits issued by the Department of Ecology.
He says there's also the challenge of treating industrial wastewater from a variety of sources.
"It's not always smooth sailing," Roy says.
He adds that the Port of Sunnyside's capacity to treat industrial wastewater has grown tremendously since the new wastewater treatment facility was built on Midvale Road in 2005. "There's more work involved in the daily operations," Roy said.
The attributes required for a facilities technician are varied, he adds.
"There is a lot of analytical work. You need to understand microbiology and lab procedures," Roy says, noting that an understanding of electrical and mechanical maintenance is also helpful.
He expressed appreciation for the port's willingness to stay current in the field of industrial wastewater treatment.
"I enjoy working with the port because they're always looking for new ways to treat wastewater and improve the quality," Roy said. "They're not content with the status quo."