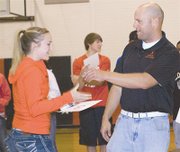 Last night Sunnyside High School honored its 2011 spring athletes at a sports awards ceremony held at Harrison Middle School.
Academic awards from the WIAA were presented to the teams that maintained high combined grade point averages. The girls track team earned the highest GPA, with an average of 3.33. The girls varsity tennis team followed with a combined GPA of 3.25, the JV girls fastpitch team combined for a 3.2 GPA, and both the girls JV tennis and girls varsity fastpitch teams earned 3.0 GPA averages.
For individual academic excellence 37 athletes were honored. The students all achieved a grade point average of 3.65 or better. They include boys track team members Angelo Andrade, Miguel Barrios, Brandon Daley, Nicholas Douglas, Sergio Lugo, Guadalupe Negrete, Juan Noyola, Freddie Roman and Eric Sanchez; girls track team members Itzel Alvizo, Vanessa Alvarez, Nereyda Barajas, Amanda Cervantes, Gardenia Contreras, Victoria Garcia, Marthy Hernandez, Josie Marro, Madison Marquez, Geordan Skyles and Tara Van Corbach; baseball team members Nick Comstock, Jacob Galindo and Cody Woodworth; girls tennis players Thais Abissamra, Keala Drollinger, Christine Kim, Jessie Robert and Lydia Robert; soccer players Ricardo Leal, Erik Maldonado and Cristian Vargas; and fastpitch softball team members Kaylynn Alaniz, Dalia Romo, Shawna Santini, Brianna Esqueda, Esmeralda Fernandez and Jocelyn Huerta.
Receiving Columbia Basin Big Nine All-Conference recognition were several athletes.
Soccer players recognized included defenders Humberto Bermudez (second team), Bradly Lopez (honorable mention) and Josue Pinedo (honorable mention), as well as forward Alfredo Gomez (second team).
Golfers Renae Visser (first team) and Nathan Espinoza (honorable mention) were recognized, and designated hitter Rosa Garza (first team) and outfielder Maria Olivera (honorable mention) were recognized by the Big Nine for fastpitch softball.
Track team members receiving all-conference recognition include Eduardo Salmeron, first team triple jump and honorable mention long jump; Jorge Ramirez, honorable mention 200M dash and 110M hurdles; Juan Reynoso, honorable mention 1600M; Miguel Guzman, honorable mention javelin; and Sergio Lugo, honorable mention triple jump.
Each of the teams recognized athletes believed to be exceptional.
The fastpitch team honored Maria Olivera as the inspirational team member, Kaylynn Alaniz as most improved, Johanna Chumley as most valuable player, Rosa Garza as best batter and Ashley Church with the golden glove award.
The baseball team recognized Andre Sarmiento as its captain and most valuable player, Samuel Romero as most improved, Frank Ochoa as the inspirational player and Fabian Guerra with the coaches award.
For the golf team Renae Visser was named most valuable player, Greg Spini was recognized with the coaches award and James Voorhies was named most improved golfer.
The inspirational award in tennis was presented to Jonathan Gutierrez and Emily Meyer, and the most valuable players were Ricardo Sanchez and Jessie Robert.
Recognized by the Grizzly soccer team as most improved was Bradly De Leon, Omar Vergara was named most inspirational, Humberto Bermudez was presented the coaches award, and the most valuable player and captain awards were presented to Alfredo Gomez.
For the track teams Eduardo Salmeron and Marissa Broersma were named most valuable players, the coaches awards were presented to Kendall Platsman and Freddie Roman, the most improved teammates were Melissa Amaro and Jorge Ramirez, and the outstanding performers for 2011 were Eric Amaro and Ayla Schmick.