Thursday, January 27, 2011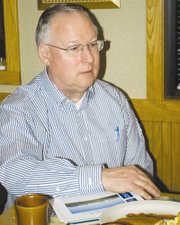 Nearly 50 years ago, the Bleyhl Co-op was formed after Carl and Alex Bleyhl retired.
The brothers, according to Bleyhl General Manager Greg Robertson, were turkey farmers who moved to the Lower Valley prior to 1964.
Robertson was the speaker at this past Wednesday's Sunnyside Kiwanis Club meeting.
He said the business started with 237 members paying a $1 membership fee to form the cooperative.
In 2008, the company had its most successful year, grossing more than $74 million.
There are currently more than 1,100 members in the cooperative, said Robertson.
He said Bleyhl is overseen by eight directors and employs more than 120 people in the Lower Valley. The co-op has grown to include retail stores, a petroleum division, feed mills, a propane plant in Sunnyside, a fertilizer plant and six locations for members of the Lower Valley and agricultural community to purchase products.
The petroleum division, said Robertson, accounts for about $25 million in business.
He said the headquarters are in Grandview because land there was made available to Bleyhl in 1998. At the time an employee of the petroleum division discussed the need for property with the board of directors and a site was available near Grandview.
"Since 1964, $10.2 million has been sent back to growers...the goal is to get money to growers," said Robertson, who said Bleyhl aims to enhance economic business to its members.
Bleyhl, he said, is in good financial standing and is very strong.
"We all work together," said Robertson.
Last year, the cooperative topped $58 million in sales, and he said he feels the growth trend is likely to continue.