Thursday, January 20, 2011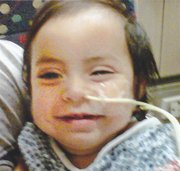 Friends and family members of Kendra Faith Murray, a 14-month-old Sunnyside girl, will hold a bone marrow drive this Saturday, Jan. 22, at the Fraternal Order of Eagles lodge in Sunnyside in honor of the youngster.
The bone marrow drive will begin at 11 a.m.
Young Kendra was diagnosed with Krabbe, a rare genetic disorder, this past December after experiencing brain seizures, her mother, Patty Murray, said. There is no cure for the genetic disorder, but doctors thought if Kendra received a bone marrow transplant it could extend her life by almost six years. Without the transplant, patients with Krabbe live on average to 2-years-old.
But Kendra's genetic disorder advanced too quickly and doctors soon discovered a bone marrow transplant would not help the 14-month-old child. Doctors decided against putting her through the procedure if nothing positive could come from it.
The bone marrow drive was planned before this news was delivered, however, and instead of canceling the event, Patty and her husband, Keith Murray, deciding to go ahead with the bone marrow drive to spread awareness and maybe help another family.
"Even though we can't save her it's so easy to save other kids," Patty Murray said. "If I can help another parent with their child..."
The disorder affects the body's ability to move. Murray said her daughter, who is currently in stage 3 of the disorder, has already lost the ability to move her legs, her right side and is losing her vision. Eventually the disorder will attack Kendra's other senses and then her breathing.
People who want to take part in the bone marrow drive are asked to show up at the Eagles at 11 a.m. and register with a representative from the Inland Northwest Blood Center, said family friend, April Amezola. Once registered, a swab of the person's cheek will be taken and that is it. The sample will be sent to a lab where it will be checked to see if it's a match for somebody in the national registry. If it is, the person will be contacted to see if they wish to pursue it further.
Donations for the family will also be accepted at Saturday's bone marrow drive. Patty and Keith have been in Seattle for the past two months with Kendra, who is being cared for at Seattle's Children's Hospital. Patty quit her job to be with her daughter and Keith is on a leave of absence from his work. With no money coming in it has become increasingly more difficult to make ends meet.
All donations will be used to help the family with medical costs and other expenses.
Patty Murray said her family, which is currently in Seattle, will head back to Sunnyside for the bone marrow drive and visit for a few days before heading to North Carolina. There the family will visit with a doctor who specializes in the care and treatment of patients with Krabbe.
The Murrays have no hopes of a grand recovery, but are hoping they can extend their daughter's life by a couple more months.
The Fraternal Order of Eagles lodge is located at 100 E. South Hill Rd. in Sunnyside.