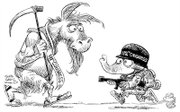 For the past four years, Congress has lived beyond its means, spending and borrowing at record levels. President Obama and those who control Congress have expanded the reach of the federal government into virtually every sector of our economy, with a government takeover of health care, student loans, car manufacturers and banks, along with new regulations on the Internet and a massive land grab that ignores the will of the American people.
Thankfully, 2011 will give Americans the chance for positive change that will put people back to work and get our economy back on track.
On January 5th a new Congress was sworn in, with 435 Representatives taking an oath to support and defend the United States Constitution. These men and women are charged with representing their constituents and making decisions that are in the best interests of their districts.
In 2011, my goals are first and foremost to support policies that will give our farmers and small business owners the tools they need to create new private sector jobs and grow our economy here in Central Washington. Instead of focusing on increasing the size and scope of the federal government, it is my goal to make the government work better with less, and in a manner that does not limit our personal freedoms and rights.
As the incoming Chairman of the House Natural Resources Committee, I will work with my colleagues to pursue policies that both create jobs and protect our nation's treasured lands, oceans and wildlife. By utilizing our vast natural resources in a safe, environmentally responsible way, we can create and keep jobs here in America, grow our economy and ensure that we are not dependent on foreign countries with far lower environmental standards for the food, energy, minerals and timber vital to our economy.
Some of the specific tasks that I would like to accomplish in the coming year are to repeal and replace the government takeover of health care, stop the reckless spending on bailouts and stimulus spending bills, and enacting an all-of-the-above energy policy for America.
These are some of the national priorities that I will support in the coming year. My hope is that by working together we can strengthen our economy, put people back to work and help make America a stronger nation.
- Congressman Doc Hastings
(R-Pasco) represents
Central Washington's
Fourth Congressional District.