Thursday, February 24, 2011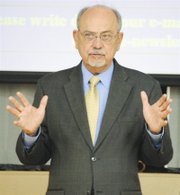 "We are at a critical time in our history!"
That statement, those nine words, pretty well sums up the many remarks made by U.S. Congressman Doc Hastings on his visit to the communities of Sunnyside and Grandview this past Tuesday.
The primary reason the Republican lawmaker took a brief two-day hiatus from the federal budget wrangling that is consuming all of Washington D.C. was a town hall meeting in Grandview Tuesday evening. Most of those in attendance, however, didn't really want to hear about the fiscal mess the country is currently in.
Rather, the discussion quickly turned to medical care for military veterans. Hastings fielded questions from several vets, ranging from how President Barack Obama's health care initiative affects medical care for veterans, to what was delaying the Care Giver Bill, when if implemented will fund stipends for those family members who provide home care to a veteran.
The Fourth District lawmaker, a Pasco native, detailed that medical care for veterans was exempted from the national health care act that Obama signed into law. Hastings' fear, though, is that medical care for veterans could eventually fall under the same guidelines.
Clearly opposed to the national health care act, Hastings said he is eagerly awaiting the judicial outcome of the court case filed by nearly half of the 50 states, alleging that the health care act is unconstitutional because it requires all Americans to purchase health care coverage. He said he fully anticipates the final ruling to come from the U.S. Supreme Court.
Hastings couldn't provide any answers about the Care Giver Bill inquiry of Sara Shaw, the wife of a disabled veteran. He indicated that with more than 700 bills on the U.S. House floor at any one given time, it's difficult to track the specifics and progress of each.
What Hastings stressed to Shaw and others in attendance, however, is that he has always been a staunch supporter of veterans' benefits. He pointed out that since elected to the U.S. House of Representatives in 1995, spending for military veterans has risen 300 percent.
Manuel Soto of Mabton, a veteran, countered that enough isn't being done. He referred to the VA hospitals as "satellite stations," saying many vets are simply given pills and sent away.
"Our government lied to us," said Soto, explaining he and other veterans were promised care and support for the service they provided their country.
"Sorry sir, you have fallen short," Soto told Hastings.
The main message that the Tri-Cities lawmaker wanted to bring to the Lower Valley this week is the approximate $1.5 trillion deficit that is currently being debated, rather heatedly at times, during budget discussions in the nation's capital.
Hastings said House Republicans want to cut $100 billion in federal spending. "We're asking that cuts are made as we move along through this process," he said, as opposed to the Democrats' apparent willingness to expand the budget deficit even further.
When queried about the possibility of lawmakers not coming to terms on a national spending plan by next month's deadline, which could result in the shutdown of most government operations, Hastings indicated that course of action is not the answer.
Closing the doors of government, he said, is not good for the people.
"A shutdown is contrary to what self-governance is all about," said Hastings.
As if the current budget deliberations in D.C. aren't fiery enough, the horizon holds even a bigger storm. Anticipated this April, said Hastings, are discussions on realigning the Social Security system, Medicare and Medicaid.
Hastings said Congressman Paul Ryan (R-Wis.), the chairman of the House Budget Committee, is expected to present several proposals at that time on how to financially shore up the three entitlements. Such discussions have occurred in the past, but neither side of the political aisle has come close to aligning their way of thinking with the other side.
This April, though, Hastings plans to enter the discussions on a much more upbeat note. He believes a bi-partisan effort may be at hand.
Explaining, he said Sen. Kent Conrad, a Democrat from North Dakota who has already indicated that he will not seek re-election, has been vocal that SSI, Medicare and Medicaid needs to be addressed. Hastings believes other Democrats will be open to some of Conrad's ideas, many of which are likely to mirror the suggestions of some Republican legislators.
"It's all conceptual at this point," said Hastings, but the underlying premise of the change at hand, he explained, is that for the older people in the SSI and Medicare systems, there will be no change in their benefits.
"Basically, they'd be grandfathered in," said Hastings.
The change in SSI and Medicare benefits would affect the nation's younger population, wherever lawmakers set the age at, be it 55 or 45, "...or whatever age is decided upon," said Hastings.
When it comes to Medicaid, which is basically health care for those living at the poverty level, many Republicans want the system changed from being an entitlement to a system that is capped. Hastings said lawmakers would need to decide how much money would be allocated to Medicaid, "...a flat figure," and then through block grants, based on population figures, award the grants to the 50 different states and let them decide for themselves how the money should be spent.
"We have to do something," he stressed. "We have to stop spending money we don't have. We have an obligation to future generations."