Friday, February 18, 2011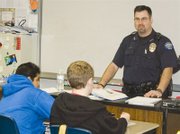 GRANDVIEW - In an era when governments are hiring more police officers or trying to pass legislation to make life tougher on criminal gangs, the city of Grandview is focusing its efforts on an intervention program.
The city is doing so in partnership with the Grandview School District through the GREAT (Gang Resistance Education and Training) program.
Suppression, Grandview police say, is only part of the effort to combat gangs. They say there must be intervention, capturing the kids' attention when they're young before they fall into gangs.
Grandview has a GREAT officer working in the schools, with most of the time focused on working with middle and elementary school students.
The GREAT curriculum helps students in areas as diverse as learning to say no both with their voice and body language, as well as anger management and conflict resolution.
But the program doesn't just educate children about staying away from gangs, as there is also a family component that discusses topics such as effective discipline and breaking down myths about criminal gangs.
Rob Colley is the GREAT officer for Grandview, with 75 percent of his salary paid for by the Grandview School District. Colley works out of the middle school, but also works with elementary and high school students.
His main focus is the GREAT curriculum he teaches to fourth and sixth graders.
Colley says the idea is both prevention and intervention in potential gang activities.
"It points out the negative sides of gangs and helps kids make educated decisions," he said.
The program is working, as Assistant Police Chief Mark Ware says criminal gang activity has dropped significantly since the GREAT program started up four years.
Actually, make that started up again, as Grandview previously had the GREAT program for about three years until 2003. Grant funds ran out, though, and the program was discontinued.
The result was a period of about four years when gang activity spiked in Grandview.
Students growing up through middle school and high school at that time didn't have an officer based in the school system.
"We saw an increase in gang activities," Grandview Detective Mitch Fairchild says of the aftermath of losing GREAT.
Fairchild had served as a GREAT officer during the 2000-03 era of the program in Grandview.
Ware adds that the crop of young people involved in drive-by shootings and criminal activity in the city came up during a time without a GREAT officer. He says the primary solution for those young people is through suppression.
Jack Dalton is the principal at Grandview Middle School, and he's seen the effects of having the GREAT program, not having it, and then having it again.
"I truly believe it has transformed our school in the last four years," Dalton said of the current GREAT program. "It was a little rough before that, we had so many kids with gang-like behavior coming up from the elementary school that when they got here it exploded."
Dalton says it's a different story thanks in large part to the GREAT program.
"It's all positive," he says, noting the middle school has also benefited from a school improvement grant that encourages positive behaviors in students.
Dalton says a partnership with the city's parks and recreation department every Friday has also helped change the outlook at Grandview Middle School.
"It's part of a whole culture change to make this a school of scholars, for so long it was known as something different," Dalton says.