Monday, February 14, 2011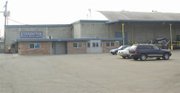 Baybe it was due to strong wind storms the area received, but new construction starts in Sunnyside during January were topped by roofing projects in what proved to be a light month.
Last month, the city issued 22 building permits and 10 - almost half - involved roof projects.
The 10 re-roofing efforts accounted for almost a third of January's total valuation, $69,100 out of $219,657 in new construction valuation.
The biggest roofing project last month was a roof repair at 301 Warehouse Ave. valued at $38,000.
The Warehouse Avenue roofing project resulted in $537 in permit fees paid to the city of Sunnyside.
For the month, Sunnyside city coffers netted $4,145 in permit fees.
The single largest project overall in January was improvements made at 2600 E. Yakima Valley Highway for Aaron's, a rent-to-own store. That project was valued at $80,939 and resulted in $1,424 paid to Sunnyside for permit fees.
Sunnyside building officials also last month issued five mechanical permits and one plumbing permit.
Officials conducted a total of 142 building inspections during January, as well as 14 mechanical and seven plumbing inspections.