Tuesday, February 1, 2011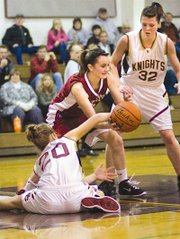 As good as advertised, Bickleton senior Katelynn Clinton, that is.
The Greater Columbia 1B League's top scorer, with both YVCC and CBC women's basketball scouts in attendance last night, poured in a game-high 21 points against Sunnyside Christian.
As well as Clinton played, though, it wasn't good enough to carry the Lady Pirates to a victory over state-ranked Sunnyside Christian. The host Lady Knights prevailed by a 58-33 score.
Monday evening's victory boosted the Lady Knights' league record to 8-0, 14-3 overall. Bickleton fell to 4-3 in conference play, 9-5 overall.
Although Clinton popped in a game-best 21 points, this was the first time this season she didn't record a double-double. The Bickleton senior, normally a dynamo on the boards, settled for just six rebounds against the Lady Knights.
Bickleton Coach Emily Barnhart said her girls did a great job defensively, "...but gave away a lot of points to Sunnyside Christian by letting them get too many offensive rebounds.
"That, I believe, was our main problem," said Barnhart.
The game stats bear that out. Sunnyside Christian officially outboarded the visiting Lady Pirates by a 44 to 22 margin. And of the 44 boards, 24 were scraped off the offensive glass. The rebounding leader for Sunnyside Christian proved to be reserve post player Stormee Van Belle, a 5'11" freshman who filled in nicely for Marisa Broersma, who got into early foul trouble.
Van Belle also canned eight points to go along with the 10 rebounds she collected.
Sunnyside Christian took control of the game early last night, building a 19-8 lead through the first period. The catalyst for the Lady Knights early on was senior Analisa Van Oostrum. She torched the net for 13 of her team-high 15 points in that opening quarter, which included knocking down 2-of-3 shots from 3-point land in the first period.
The Lady Knights could have socked the game away in the second quarter, but seven missed free throws allowed Bickleton to stay close, as the Lady Pirates went into intermission down only by a 28-15 count.
"We didn't shoot very well last night," said Sunnyside Christian Coach Al Smeenk. He said his club made only 18-of-28 from the foul line, although the Lady Knights did sink 8-of-8 from the charity stripe in the final eight minutes of the game. From the field, Smeenk's girls were just 19-for-70 (27 percent).
That paled in comparison to Bickleton's 41 percent field goal shooting in the opening half. "A great percentage, but we just didn't put up the ball enough," said Barnhart.
One of the reasons the Lady Pirates didn't hoist all that many shots was the 27 turnovers they committed. There could have been more cough-ups on the part of Bickleton, probably, had Sunnyside Christian employed its vaunted full-court press. Smeenk, though, elected to have his team play a half-court man defense for most of the game.
Sunnyside Christian, after intermission, slowly increased its lead, outscoring the Lady Pirates by a 10-7 margin in the third quarter.
Any chance for a Bickleton comeback went by the wayside in the final stanza, as the Lady Knights pieced together a 20-11 run to end the contest.
Besides the team-best 15 points from Van Oostrum, Sunnyside Christian received a 12-point performance from Broersma, as well as nine and eight-point efforts from Makayla Morrow and Van Belle, respectively. Also scoring for the winners were Alyssa Haak and Maddy Wavrin with six points apiece, and Janelle DeGroot with two points.
Clinton didn't receive nearly the support from her teammates last night. Besides her 21 points, the Lady Pirates only got six points from Aymie Osborne and two apiece from Haley Goodnight, Jamie Venema and Jenna Mount.
Barnhart said her club will be working on its rebounding in practices this week, in an effort to give Sunnyside Christian a stiffer challenge when the Lady Knights invade the Bickleton gym this coming Saturday for both teams' regular-season finale. The Lady Pirates will first take on the Mabton JV tonight (Tuesday) in Bickleton, then will play Yakama Tribal in the Eagles' Toppenish gym this coming Friday.
Sunnyside Christian is scheduled to host the DeSales Irish in a non-league battle tonight (Tuesday), before closing out league play this coming Friday and Saturday.