Friday, December 30, 2011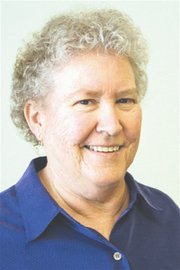 Sister Mary Rita Rohde of Nuestra Casa in Sunnyside was recently appointed to the Yakima Valley Community Foundation board.
Rohde is no stranger to the non-profit, as she was part of a community advisory committee that helped set up the foundation when it was begun seven years ago. That involvement required a meeting once a year or so, Rohde said.
Being on the board is a deeper level of commitment.
"I've already spent days in meetings," Rohde said. "It's a huge difference from one meeting a year."
The Yakima Valley Community Foundation manages about $46 million in charitable funds contributed by individuals, families and corporations. Annual earnings from these funds are used to make grants to address needs in the Yakima Valley.
In 2011, for example, the foundation provided $25,000 for a community park in Mabton, $25,000 for play equipment at EPIC's learning center in Sunnyside and $15,000 to Nuestra Casa to support the education of immigrant women.
Since Rohde now sits on the board, she says she will recuse herself from discussions about grant funding. "I don't want to jeopardize Nuestra Casa in receiving grants," she says.
The bottom line, Rohde says, is "I hope being on the foundation board will help us get more money in the Lower Valley."
Rohde, who has experience in fundraising for Nuestra Casa as well as Heritage University, will serve on the foundation's governance and development committees.
Rohde wasn't the only Lower Valley resident recently named to Yakima Valley Community Foundation board, as Mabton School Superintendent Minerva Morales was also selected.
Morales will serve on the foundation's grants and program committee.
"I embrace the opportunity to serve on the board of the Yakima Valley Community Foundation," Morales said. "I am a lifelong resident of the Yakima Valley. Serving on this board provides me with a venue to continue to seek and support the diverse needs of residents in the Yakima County.