Friday, December 23, 2011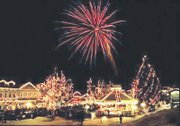 LEAVENWORTH - On the heels of Christmas, this village continues the celebration of winter with Bavarian Ice Fest, Jan. 14-15, 2012.
An annual play day hosted by the Leavenworth Chamber of Commerce, Ice Fest is full of activities and events for all ages.
Jeff Renner from King 5 News will again emcee this weekend grab bag of outdoor events, including snow sculpture, tug 'o war, ice cube scramble for kids six and under, the great Frisbee sweep and Leavenworth's famous Smooshing Contest, a unique race peculiar to the Great Bavarian Ice Fest.
The Smooshing contest is held on Front Street with teams of four having their toes strapped to 10' long boards trying to maneuver and glide down the street tandem style. The best thing about Ice Fest, you can cheer from the sidelines or jump right in and compete for prizes.
During the weekend visitors can also enjoy the Northwest Dog Sled Pulling Competition, a sanctioned event of the International Weight Pull Association.
The IWPA is a non-profit corporation that promotes the sport of dog pulling and the working heritage of all dogs. The IWPA also promotes a program to keep dogs in good physical condition with a constructive outlet for canine competition.
The Leavenworth Winter Sports Club presents the return of the Chili Cook Off sponsored by KOHO Radio on Sunday, Jan. 15. Local chefs will compete for the bragging rights of Leavenworth's best chili!
Sunday evening enjoy musical entertainment in the Gazebo while Steven's Pass brings the Mountain down town! For the second year in a row, the Steven's Pass Phlight Terrain Park crew will be throwing down on a newly constructed rail feature, reaching deep into their bag of tricks to bring the progression of the Top Phlight Terrain Park to the streets of Leavenworth.
Leavenworth's Front Street Park will also feature an aerial fireworks display over the city's downtown area, accompanied by a snowboarding display.
Also on tap for the weekend are activities such as sleigh rides, sledding, tubing and snowmobiling.
For more information, phone 509-548-5807 or visit www.leavenworth.org.
photo courtesy Leavenworth Chamber of Commerce
Aerial fireworks will again be featured during next month's Ice Fest in Leavenworth.