Wednesday, December 7, 2011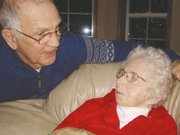 When Eileen Concienne stopped wanting to cook, even though she had loved cooking before, her family thought she might have depression.
As the symptoms got worse, the family looked deeper, and she was eventually diagnosed with Alzheimer's. Her husband, Pat Concienne, became her caregiver, working to keep her happy through the fog of dementia. After a 10-year battle with the disease, she passed away this past April.
Cheryl Larrick tells this story in an essay she wrote about her father and his efforts to please his wife during her illness. The essay resulted in Concienne being awarded the grand prize for his caregiving in a national contest.
Larrick came across the seniorhomes.com 2011 Caregiver Awards and found that the story poured out of her. She typed it up and submitted it in one afternoon.
Her essay tells of a hard-working farmer, strict and a little distant with his five children, who expected his wife to have food on the table when he came in from work. Larrick explains that she was close to her mother, but didn't have a strong relationship with her father.
Then the family learned about her mother's Alzheimer's. Larrick expresses the profound shock and fear. "Our family didn't know what to do... He depended on her so much. This is where I saw a father that I never knew."
Concienne took it upon himself to care for his sick wife. For years he tended to her every need, growing closer to his two daughters as he leaned more and more on them.
Concienne would do anything he could to please his wife. When she stated once that she wanted to go to Hawaii again, Concienne was determined to take her, despite the risks and problems. Other family members went with him to help.
Larrick said that at one point her mother refused to get off the plane, confused about where she was. And in Hawaii was the first time her mother looked Larrick in the face and said, "What's your name?"
At home, Concienne had to change the locks on the house so his wife wouldn't wander outside and get lost. When their mother was particularly confused, the daughters would take her for a drive, telling Concienne to change his clothes while they were away. Sometimes it worked, and their mother would recognize him. Sometimes it didn't work.
She would tell Larrick, "This man is very nice to me, but I'm married and I need to find my family." But they couldn't give her that family. She was home, but no longer knew it.
The daughters tried to convince their father to get help, but he said it was his responsibility to take care of her. But caregiving is exhausting both physically and emotionally, and eventually the family moved their mother to Sun Terrace Assisted Living & Retirement Community.
It was then, said Larrick, she realized how amazing her father is. Concienne was at Sun Terrace every day, staying with his wife all afternoon and evening, until she was asleep. He tended to her every need, feeding her at dinner. He would iron her clothing to look perfect, even though she was bedridden. He would make sure she always looked her best.
Because she couldn't go out much, they held family events and functions at Sun Terrace. And the family isn't small, so they filled the courtyard on nice days.
In December of 2010, Cheryl and her sister decided that their mother should attend Christmas services at her church. They dressed her in nice clothes, and made up her hair and face. "You should have seen the look on my father's face when we wheeled her into church. She was still beautiful, and he still loved her," said Larrick.
That was her last Christmas, surrounded by her family.
Larrick said that her father continues to keep the house looking as his wife would have kept it. He surprised his children with his cooking, making good food and showing a side of himself they never suspected existed.
The grand prize offered by seniorhomes.com was a weekend getaway for the caregiver, but the timing didn't work out for Concienne. The sponsors decided to send him the cash value of the prize instead.
Larrick said the money arrived just as Concienne learned of a tragic death in his family in Texas, and the ready cash made it easier for him to make the trip to the funeral.
"God works in mysterious ways," said Larrick in her essay. "Through this ordeal I became so close to my Dad, which I never dreamed of happening."