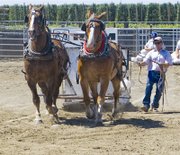 GRANDVIEW - The headline atop this story isn't a car commercial, it's a fact as Randy Dodge swept to victory in two horse team pull events at the Yakima Valley Fair and Rodeo.
Dodge's wins this past Friday came in the lightweight and heavyweight divisions of the team pull competition.
The event features horses, often weighing a combined two tons, pulling about twice that much weight on a sled.
Dodge, from Albany, Ore., won in the "lightweight" division - which was anything but light - as his team of Rocky and Red pulled 8,000 lbs. the required distance of 20 feet.
Second-place honors in the lightweight category were claimed by Cameron Witman of Ferndale and third place went to Bob McGowan of Lebanon, Ore.
That set the stage for a bit of drama in the heavyweight finale.
It all came down to the final two competitors, Dodge and Bill Martson of Pullman.
Their teams were the only ones to pull 9,000 lbs. the required 20 feet. More weight, 500 lbs., was then added to the load.
Martson's team was first and mustered a pull of about six or seven feet.
Undaunted, Dodge and his team of Belgians, Jack and Paul, easily cleared the 20-foot mark with room to spare.
He may not have had the horsepower of a Dodge, but McGowan's team of horses also placed in both divisions.
McGowan's horses finished in third place in the heavyweight division to round out the top three competitors.